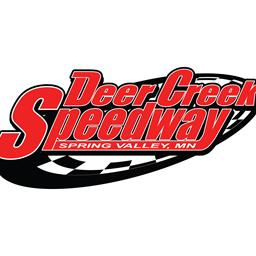 8/7/2018 - Deer Creek Speedway
Spring Valley, MN
The IMCA Racing Series will make their debut at Deer Creek Speedway on Tuesday August 7th, 2018 for the 27th Annual Harris Clash.
Featuring the IMCA Modifieds racing for $3,000 and IMCA Sport Mods racing for $1,000 to win.
Adult Ticket: $20
Seniors 65+ Ticket: NA
Students 13-17 Ticket: NA
Kids 12 & Under Ticket: $5
Adult Pit Pass: $35
Students 6-15 Pit Pass: $20
Kids 5 & Under Pit Pass: $5
Pit Gates Open: 3:00pm
Gates Open: 4:00pm
Hot Laps: 6:15pm
Pit Meeting: 6:30pm
Racing Starts: 7:00pm
A Modifieds

96 entries

B Modifieds

55 entries
Full Event Information on MyRacePass
Competitor Overview
---

Ricky Thornton Jr.
Martinsville, IN
| A Modifieds | Start | Finish | +/- |
| --- | --- | --- | --- |
| A Feature 1 | 24 | 21 | 3 |
| B Feature 6 | 3 | 2 | 1 |
| Heat 6 | 5 | 3 | 2 |
A Modifieds
Finish
Start
#
Competitor
Hometown
+/-
1
17
10C
Cayden Carter Oskaloosa, IA
Oskaloosa, IA
16
2
2
71C
Troy Cordes Dunkerton, IA
Dunkerton, IA
-
3
4
96
Brandon Davis Hayfield, MN
Hayfield, MN
1
4
11
44H
Adam Hensel Baldwin, WI
Baldwin, WI
7
5
5
12H
Mike Hanson
-
6
25
3
Kelly Shryock Fertile, IA
Fertile, IA
19
7
8
9
zzzBilly zzzKendall Baxter, MN
Baxter, MN
1
8
21
26J
Joel Rust Grundy Center, IA
Grundy Center, IA
13
9
7
70
Jesse Dennis Corning, IA
Corning, IA
-2
10
16
74C
Clint Hatlestad Glencoe, MN
Glencoe, MN
6
11
20
15K
Justin Kay Wheatland, IA
Wheatland, IA
9
12
14
1X
Chris Abelson Sioux City, IA
Sioux City, IA
2
13
18
00J
J.D. Auringer Waterloo, IA
Waterloo, IA
5
14
9
72
Brian Mullen Seymour, WI
Seymour, WI
-5
15
19
15X
Matt Ryan Davenport, IA
Davenport, IA
4
16
15
62
Hunter Marriott Brookfield, MO
Brookfield, MO
-1
17
23
7N
Jay Noteboom Hinton, IA
Hinton, IA
6
18
22
31
Corey Dripps Reinbeck, IA
Reinbeck, IA
4
19
1
05
Mike Mashl Depere, WI
Depere, WI
-18
20
13
19G
Richie Gustin Gilman, IA
Gilman, IA
-7
21
24
20RT
Ricky Thornton Jr. Martinsville, IN
Martinsville, IN
3
22
10
8K
Kyle Strickler Mooresville, NC
Mooresville, NC
-12
23
3
1
Jacob Hobscheidt Plattsmouth, NE
Plattsmouth, NE
-20
24
6
3W
Garett Wilson Carlisle, IA
Carlisle, IA
-18
25
12
21KX
Kyle Brown Madrid, IA
Madrid, IA
-13
Finish
Start
#
Competitor
Hometown
+/-
1
13
19G
Richie Gustin Gilman, IA
Gilman, IA
12
2
6
15X
Matt Ryan Davenport, IA
Davenport, IA
4
Top 2 transfer
3
2
91
Joe Duvall Claremore, OK
Claremore, OK
-1
4
8
10
Jeremy Mills Clear Lake, IA
Clear Lake, IA
4
5
4
74
Mark Noble Blooming Prairie, MN
Blooming Prairie, MN
-1
6
1
2
Nick Meyer Whittemore, IA
Whittemore, IA
-5
7
5
XXX
Jesse Rogotzke Sanborn, MN
Sanborn, MN
-2
8
7
22
Jeff Ignaszewski Wells, MN
Wells, MN
-1
9
3
3S
Jesse Skalicky Fargo, ND
Fargo, ND
-6
10
10
15M
Shane DeMey Denison, IA
Denison, IA
-
11
12
68J
Mark Joski Denmark, WI
Denmark, WI
1
12
9
7J
Jeremy Smith Luverne, MN
Luverne, MN
-3
13
14
M80
Jim Mathieson Sioux City, IA
Sioux City, IA
1
14
11
415
Josh Barta Cedar Falls, IA
Cedar Falls, IA
-3
Finish
Start
#
Competitor
Hometown
+/-
1
2
1X
Chris Abelson Sioux City, IA
Sioux City, IA
1
2
1
15K
Justin Kay Wheatland, IA
Wheatland, IA
-1
Top 2 transfer
3
7
10S
Johnny Scott Las Cruces, NM
Las Cruces, NM
4
4
6
77
zzzjeff zzzaikey
2
5
4
30
Jordan Grabouski Beatrice, NE
Beatrice, NE
-1
6
5
71K
Kevin Sustaire Emory, TX
Emory, TX
-1
7
12
7
Eric Dailey Armstrong, IA
Armstrong, IA
5
8
8
1CC
Clayton Christensen Spencer, IA
Spencer, IA
-
9
3
49K
Cody Knecht Whittemore, IA
Whittemore, IA
-6
10
10
72T
Tyler Limoges Redwood Falls, MN
Redwood Falls, MN
-
11
14
20T
Jesse Sobbing Malvern, IA
Malvern, IA
3
12
9
12
Chad Porter Madison Lake, MN
Madison Lake, MN
-3
13
11
24B
Chris Bragg Springtown, TX
Springtown, TX
-2
14
13
13
Eddie Lemay Beaver Dam, WI
Beaver Dam, WI
-1
Finish
Start
#
Competitor
Hometown
+/-
1
3
62
Hunter Marriott Brookfield, MO
Brookfield, MO
2
2
2
26J
Joel Rust Grundy Center, IA
Grundy Center, IA
-
Top 2 transfer
3
1
4TW
Tim Ward Harcourt, IA
Harcourt, IA
-2
4
6
56C
Jason Czarapata Pulaski, WI
Pulaski, WI
2
5
13
58
Marcus Yarie Wausau, WI
Wausau, WI
8
6
8
175
Ethan Dotson Bakersfield, CA
Bakersfield, CA
2
7
4
M8
Dalton Magers Redwood Falls, MN
Redwood Falls, MN
-3
8
5
02
Kody Scholpp Estevan, SK
Estevan, SK
-3
9
12
24
Aaron Benson Clear Lake, IA
Clear Lake, IA
3
10
7
71J
Jason Cummins New Richland, MN
New Richland, MN
-3
11
10
3AC
Austin Kiefer Corona, CA
Corona, CA
-1
12
11
96R
Steve Reynolds Springfield, SD
Springfield, SD
-1
13
9
00
Mark Gartner Mapleton, MN
Mapleton, MN
-4
14
14
8
Wade Taylor Spring Creek, NV
Spring Creek, NV
-
Finish
Start
#
Competitor
Hometown
+/-
1
4
74C
Clint Hatlestad Glencoe, MN
Glencoe, MN
3
2
6
31
Corey Dripps Reinbeck, IA
Reinbeck, IA
4
Top 2 transfer
3
8
18
Brock Bauman Eureka, IL
Eureka, IL
5
4
3
21X
Jesse Hoeft Forest City, IA
Forest City, IA
-1
5
7
33D
Scott Hogan Vinton, IA
Vinton, IA
2
6
1
14E
Chase Ellingson Iowa Falls, IA
Iowa Falls, IA
-5
7
11
X
Joshua Rogotzke Sanborn, MN
Sanborn, MN
4
8
5
21C
Brennen Chipp Dunkerton, IA
Dunkerton, IA
-3
9
13
7SR
Shawn Ritter Keystone, IA
Keystone, IA
4
10
12
88X
Shawn Frelich Kaukauna, WI
Kaukauna, WI
2
11
10
48J
Jacob Murray Hartford, IA
Hartford, IA
-1
12 DNF
2
442
Aaron Johnson Brainerd, MN
Brainerd, MN
-10
13 DNF
14
21B
Jason Brees Meriden, IA
Meriden, IA
1
14 DNF
9
8C
Chad Andersen Ft. Calhoun, NE
Ft. Calhoun, NE
-5
Finish
Start
#
Competitor
Hometown
+/-
1
2
10C
Cayden Carter Oskaloosa, IA
Oskaloosa, IA
1
2
1
7N
Jay Noteboom Hinton, IA
Hinton, IA
-1
Top 2 transfer
3
4
3
Kelly Shryock Fertile, IA
Fertile, IA
1
4
3
68C
Austin Emery Kellogg, IA
Kellogg, IA
-1
5
8
99
Mike Mullen Seymour, WI
Seymour, WI
3
6
14
92P
John Parmeley Phoenix, AZ
Phoenix, AZ
8
7
7
19M
Dan Menk Franklin, MN
Franklin, MN
-
8
9
49T
Jake Timm Winona, MN
Winona, MN
1
9
5
49
Mat Hollerich Good Thunder, MN
Good Thunder, MN
-4
10
6
8X
Scott Olson Blairsburg, IA
Blairsburg, IA
-4
11
10
369
Andy Tiernan Madrid, IA
Madrid, IA
-1
12
12
333
Rob Charapata Green Bay, WI
Green Bay, WI
-
13
13
7S
Todd Stinehart Waseca, MN
Waseca, MN
-
DNS
11
11
Trent Loverude New Ulm, MN
New Ulm, MN
-
Finish
Start
#
Competitor
Hometown
+/-
1
2
00J
J.D. Auringer Waterloo, IA
Waterloo, IA
1
2
3
20RT
Ricky Thornton Jr. Martinsville, IN
Martinsville, IN
1
Top 2 transfer
3
8
44
Josh Foster Fairfax, IA
Fairfax, IA
5
4
7
555
zzzRyan zzzRuter Clear Lake, MN
Clear Lake, MN
3
5
4
19D
Darin Duffy Urbana, IA
Urbana, IA
-1
6
1
21
Jacob Bleess Chatfield, MN
Chatfield, MN
-5
7
6
27
Jason Wolla Ray, ND
Ray, ND
-1
8
12
25
Toby Patchen Isanti, MN
Isanti, MN
4
9
5
98
Brian Irvine Oelwein, IA
Oelwein, IA
-4
10
11
11X
Tom Berry Jr. Des Moines, IA
Des Moines, IA
1
11
10
21D
David Brown Kellogg, IA
Kellogg, IA
-1
12
14
A
Kollin Hibdon Pahrump, NV
Pahrump, NV
2
13 DNF
13
95
Jeff Bodendorfer Waterford, WI
Waterford, WI
-
14 DNF
9
4
Cody Bauman Eureka, IL
Eureka, IL
-5
Finish
Start
#
Competitor
Hometown
+/-
1
2
12H
Mike Hanson
1
Top 1 transfer
2
1
2
Nick Meyer Whittemore, IA
Whittemore, IA
-1
3
3
3S
Jesse Skalicky Fargo, ND
Fargo, ND
-
4
8
XXX
Jesse Rogotzke Sanborn, MN
Sanborn, MN
4
5
4
22
Jeff Ignaszewski Wells, MN
Wells, MN
-1
6
7
7J
Jeremy Smith Luverne, MN
Luverne, MN
1
7
6
415
Josh Barta Cedar Falls, IA
Cedar Falls, IA
-1
DQ
5
19G
Richie Gustin Gilman, IA
Gilman, IA
-
Finish
Start
#
Competitor
Hometown
+/-
1
2
72
Brian Mullen Seymour, WI
Seymour, WI
1
Top 1 transfer
2
4
15K
Justin Kay Wheatland, IA
Wheatland, IA
2
3
3
49K
Cody Knecht Whittemore, IA
Whittemore, IA
-
4
6
71K
Kevin Sustaire Emory, TX
Emory, TX
2
5
7
10S
Johnny Scott Las Cruces, NM
Las Cruces, NM
2
6
1
12
Chad Porter Madison Lake, MN
Madison Lake, MN
-5
7
8
24B
Chris Bragg Springtown, TX
Springtown, TX
1
8
5
13
Eddie Lemay Beaver Dam, WI
Beaver Dam, WI
-3
Finish
Start
#
Competitor
Hometown
+/-
1
1
05
Mike Mashl Depere, WI
Depere, WI
-
Top 1 transfer
2
3
4TW
Tim Ward Harcourt, IA
Harcourt, IA
1
3
5
62
Hunter Marriott Brookfield, MO
Brookfield, MO
2
4
8
02
Kody Scholpp Estevan, SK
Estevan, SK
4
5
4
71J
Jason Cummins New Richland, MN
New Richland, MN
-1
6
7
00
Mark Gartner Mapleton, MN
Mapleton, MN
1
7
2
96R
Steve Reynolds Springfield, SD
Springfield, SD
-5
8
6
58
Marcus Yarie Wausau, WI
Wausau, WI
-2
Finish
Start
#
Competitor
Hometown
+/-
1
2
3W
Garett Wilson Carlisle, IA
Carlisle, IA
1
Top 1 transfer
2
1
14E
Chase Ellingson Iowa Falls, IA
Iowa Falls, IA
-1
3
4
21X
Jesse Hoeft Forest City, IA
Forest City, IA
1
4
3
21C
Brennen Chipp Dunkerton, IA
Dunkerton, IA
-1
5
6
33D
Scott Hogan Vinton, IA
Vinton, IA
1
6
7
8C
Chad Andersen Ft. Calhoun, NE
Ft. Calhoun, NE
1
7
5
X
Joshua Rogotzke Sanborn, MN
Sanborn, MN
-2
8
8
7SR
Shawn Ritter Keystone, IA
Keystone, IA
-
Finish
Start
#
Competitor
Hometown
+/-
1
1
9
zzzBilly zzzKendall Baxter, MN
Baxter, MN
-
Top 1 transfer
2
5
7N
Jay Noteboom Hinton, IA
Hinton, IA
3
3
3
68C
Austin Emery Kellogg, IA
Kellogg, IA
-
4
6
49
Mat Hollerich Good Thunder, MN
Good Thunder, MN
2
5
7
19M
Dan Menk Franklin, MN
Franklin, MN
2
6
8
49T
Jake Timm Winona, MN
Winona, MN
2
7
2
11
Trent Loverude New Ulm, MN
New Ulm, MN
-5
8
4
7S
Todd Stinehart Waseca, MN
Waseca, MN
-4
Finish
Start
#
Competitor
Hometown
+/-
1
1
71C
Troy Cordes Dunkerton, IA
Dunkerton, IA
-
Top 1 transfer
2
4
21
Jacob Bleess Chatfield, MN
Chatfield, MN
2
3
5
20RT
Ricky Thornton Jr. Martinsville, IN
Martinsville, IN
2
4
2
98
Brian Irvine Oelwein, IA
Oelwein, IA
-2
5
8
555
zzzRyan zzzRuter Clear Lake, MN
Clear Lake, MN
3
6
3
4
Cody Bauman Eureka, IL
Eureka, IL
-3
7
7
11X
Tom Berry Jr. Des Moines, IA
Des Moines, IA
-
8
6
95
Jeff Bodendorfer Waterford, WI
Waterford, WI
-2
Finish
Start
#
Competitor
Hometown
+/-
1
1
8K
Kyle Strickler Mooresville, NC
Mooresville, NC
-
Top 1 transfer
2
5
91
Joe Duvall Claremore, OK
Claremore, OK
3
3
2
74
Mark Noble Blooming Prairie, MN
Blooming Prairie, MN
-1
4
7
15X
Matt Ryan Davenport, IA
Davenport, IA
3
5
8
10
Jeremy Mills Clear Lake, IA
Clear Lake, IA
3
6
3
15M
Shane DeMey Denison, IA
Denison, IA
-3
7
6
68J
Mark Joski Denmark, WI
Denmark, WI
-1
8
4
M80
Jim Mathieson Sioux City, IA
Sioux City, IA
-4
Finish
Start
#
Competitor
Hometown
+/-
1
1
44H
Adam Hensel Baldwin, WI
Baldwin, WI
-
Top 1 transfer
2
2
1X
Chris Abelson Sioux City, IA
Sioux City, IA
-
3
4
30
Jordan Grabouski Beatrice, NE
Beatrice, NE
1
4
5
77
zzzjeff zzzaikey
1
5
6
1CC
Clayton Christensen Spencer, IA
Spencer, IA
1
6
8
72T
Tyler Limoges Redwood Falls, MN
Redwood Falls, MN
2
7
7
7
Eric Dailey Armstrong, IA
Armstrong, IA
-
8
3
20T
Jesse Sobbing Malvern, IA
Malvern, IA
-5
Finish
Start
#
Competitor
Hometown
+/-
1
3
70
Jesse Dennis Corning, IA
Corning, IA
2
Top 1 transfer
2
4
26J
Joel Rust Grundy Center, IA
Grundy Center, IA
2
3
5
M8
Dalton Magers Redwood Falls, MN
Redwood Falls, MN
2
4
6
56C
Jason Czarapata Pulaski, WI
Pulaski, WI
2
5
7
175
Ethan Dotson Bakersfield, CA
Bakersfield, CA
2
6
1
3AC
Austin Kiefer Corona, CA
Corona, CA
-5
7
8
24
Aaron Benson Clear Lake, IA
Clear Lake, IA
1
8
2
8
Wade Taylor Spring Creek, NV
Spring Creek, NV
-6
Finish
Start
#
Competitor
Hometown
+/-
1
2
1
Jacob Hobscheidt Plattsmouth, NE
Plattsmouth, NE
1
Top 1 transfer
2
3
442
Aaron Johnson Brainerd, MN
Brainerd, MN
1
3
5
74C
Clint Hatlestad Glencoe, MN
Glencoe, MN
2
4
1
31
Corey Dripps Reinbeck, IA
Reinbeck, IA
-3
5
4
18
Brock Bauman Eureka, IL
Eureka, IL
-1
6
8
48J
Jacob Murray Hartford, IA
Hartford, IA
2
7
6
88X
Shawn Frelich Kaukauna, WI
Kaukauna, WI
-1
8
7
21B
Jason Brees Meriden, IA
Meriden, IA
-1
Finish
Start
#
Competitor
Hometown
+/-
1
1
96
Brandon Davis Hayfield, MN
Hayfield, MN
-
Top 1 transfer
2
8
10C
Cayden Carter Oskaloosa, IA
Oskaloosa, IA
6
3
5
3
Kelly Shryock Fertile, IA
Fertile, IA
2
4
3
8X
Scott Olson Blairsburg, IA
Blairsburg, IA
-1
5
6
99
Mike Mullen Seymour, WI
Seymour, WI
1
6
2
369
Andy Tiernan Madrid, IA
Madrid, IA
-4
7
7
333
Rob Charapata Green Bay, WI
Green Bay, WI
-
8
4
92P
John Parmeley Phoenix, AZ
Phoenix, AZ
-4
Finish
Start
#
Competitor
Hometown
+/-
1
3
21KX
Kyle Brown Madrid, IA
Madrid, IA
2
Top 1 transfer
2
2
00J
J.D. Auringer Waterloo, IA
Waterloo, IA
-
3
1
19D
Darin Duffy Urbana, IA
Urbana, IA
-2
4
5
27
Jason Wolla Ray, ND
Ray, ND
1
5
4
44
Josh Foster Fairfax, IA
Fairfax, IA
-1
6
6
21D
David Brown Kellogg, IA
Kellogg, IA
-
7
8
25
Toby Patchen Isanti, MN
Isanti, MN
1
8
7
A
Kollin Hibdon Pahrump, NV
Pahrump, NV
-1