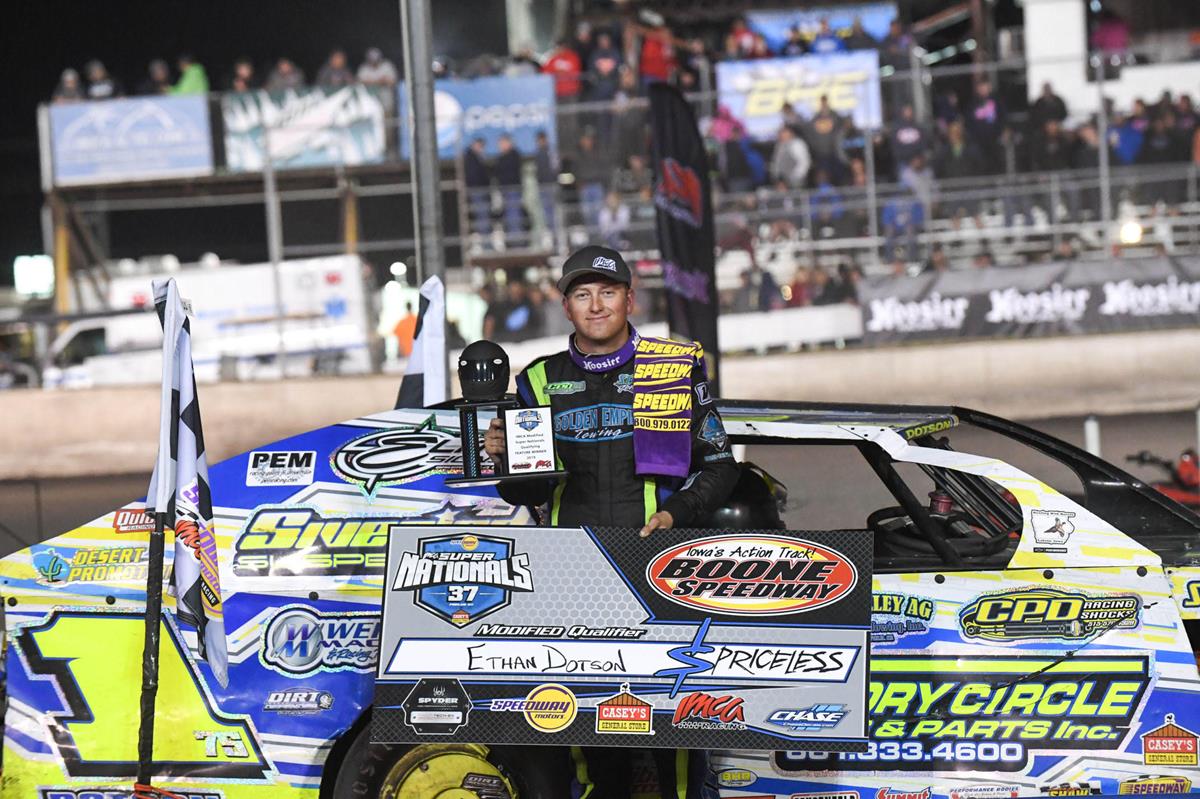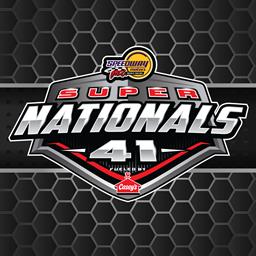 9/5/2019
IMCA Super Nationals
---
Dotson, Thornton win Wednesday qualifiers at Boone
BOONE, Iowa (Sept. 4) – Ethan Dotson took the next step toward winning his career first IMCA Speedway Motors Super Nationals fueled by Casey's championship while Ricky Thornton Jr. took the next toward winning his second of the week Wednesday at Boone Speedway.
Dotson, from Bakersfield, Calif., got the best of fellow Shaw Racing Western Region foe Zane DeVilbiss in topping the first Modified qualifier feature. Thornton, meanwhile, led all 25 laps of the second qualifier. The 2016 champion at Boone, he'd started the week by winning Monday's Deery Brothers Summer Series Late Model main event.
Top four finishers from each qualifier advance to the inside row of Saturday's main event.
DeVilbiss, from Farmington, N.M., Corey Dripps of Reinbeck and Jeremy Mills of Britt completed the top four behind Dotson. Tom Berry Jr. of Newburg, N.D., Tim Ward of Harcourt and Jeffrey Abbey of Comanche, Texas, chased Thornton to the checkers.
Abbey had qualified for Saturday's Stock Car main event earlier in the program. He'd won the Southern SportMod crown at Super Nationals in 2016.
Pole starter DeVilbiss led the first 18 circuits of the opening qualifier, giving up the front spot after trading paint with Dotson coming out of the second turn.
Dotson was still the leader when fourth running Eric Elliott and fifth running Jimmy Gustin got together and Elliott ended up on his roof on the front stretch with two laps to go, then led the last two laps after the race restarted.
Cautions on the third, 11th and 15th laps were all that slowed Thornton in his drive to the checkers in the second qualifier.
Berry and Ward shuffled Abbey back to fourth on lap 16 but neither had anything for Thornton after that.
Veterans Dripps and Mills both make career seventh starts in the Saturday show at Boone. Dripps first qualified in 1996, Mills in 1999.
Thornton is in for the sixth time, Ward for the third and Dotson and DeVilbiss both for the second. Berry and Abbey are both in the Modified dance for the first time.
Feature Results
1st qualifier – 1. Ethan Dotson, Bakersfield, Calif.; 2. Zane DeVilbiss, Farmington, N.M.; 3. Corey Dripps, Reinbeck; 4. Jeremy Mills, Britt; 5. Kyle Brown, Madrid; 6. Chris Mills, Sioux City; 7. Hunter Marriott, Brookfield, Mo.; 8. Mike Van Genderen, Newton; 9. Josh Long, Little Suamico, Wis.; 10. Ryan Jenkins, Omaha, Neb.; 11. Cory Wray, Trenton, Mo.; 12. Cody Laney, Torrance, Calif.; 13. Richie Gustin, Gilman; 14. Matthew Meinecke, Jamaica; 15. Tyler Madigan, Dubuque; 16. Grey Fernando, Stayton, Ore.; 17. Jon Snyder, Ames; 18. Chris Palsrok, Sibley; 19. Johnny Saathoff, Beatrice, Neb.; 20. Mike Petersilie, Hoisington, Kan.; 21. Chad Hertel, Tuscola, Texas; 22. Terry Rentfro, Davenport; 23. Keegan Nordquist, Beresford, S.D.; 24. Cody Knecht, Whittemore; 25. Larry Sutton, Beloit, Kan.; 26. Eric Elliott, Boone; 27. Jimmy Gustin, Marshalltown; 28. Kelly Shryock, Fertile; 29. Dan Ratajczak, Luxemburg, Wis.; 30. Dan Drury, Eldora.
2nd qualifier – 1. Ricky Thornton Jr., Adel; 2. Tom Berry Jr., Newburg, N.D.; 3. Tim Ward, Harcourt; 4. Jeffrey Abbey, Comanche, Texas; 5. Brock Bauman, Eureka, Ill.; 6. Jesse Sobbing, Malvern; 7. Lucas Lamberies, Clintonville, Wis.; 8. Brandon Beckendorf, Danube, Minn.; 9. Cory Davis, Eunice, N.M.; 10. Jeff Taylor, Cave City, Ark.; 11. Cayden Carter, Oskaloosa; 12. Tony Hofbauer, Huxley; 13. Chris Abelson, Sioux City; 14. Jordy Nelson, Marysville, Kan.; 15. John Oliver Jr., Danville; 16. Ryan McDaniel, Olivehurst, Calif.; 17. Billy Kendall, Baxter, Minn.; 18. Chaz Baca, Mesa, Ariz.; 19. Karl Brewer, Vermillion, S.D.; 20. Jesse Richter, Great Bend, Kan.; 21. Collin Thirlby, Traverse City, Mich.; 22. Mitchell Hunt, Kent City, Mich.; 23. J.J. Wise, Garner; 24. Anthony Roth, Columbus, Neb.; 25. Chris Carter, Redfield, Ark.; 26. Jason Schneiders, North Sioux City; 27. Joe Mullins, Boulder, Colo.; 28. Steve Reynolds, Springfield, S.D.; 29; Joel Rust, Grundy Center; 30. Randy Brown, Chowchilla, Calif.
---
Article Credit: Bill Martin (IMCA)
Submitted By: Josh Holt
Back to News