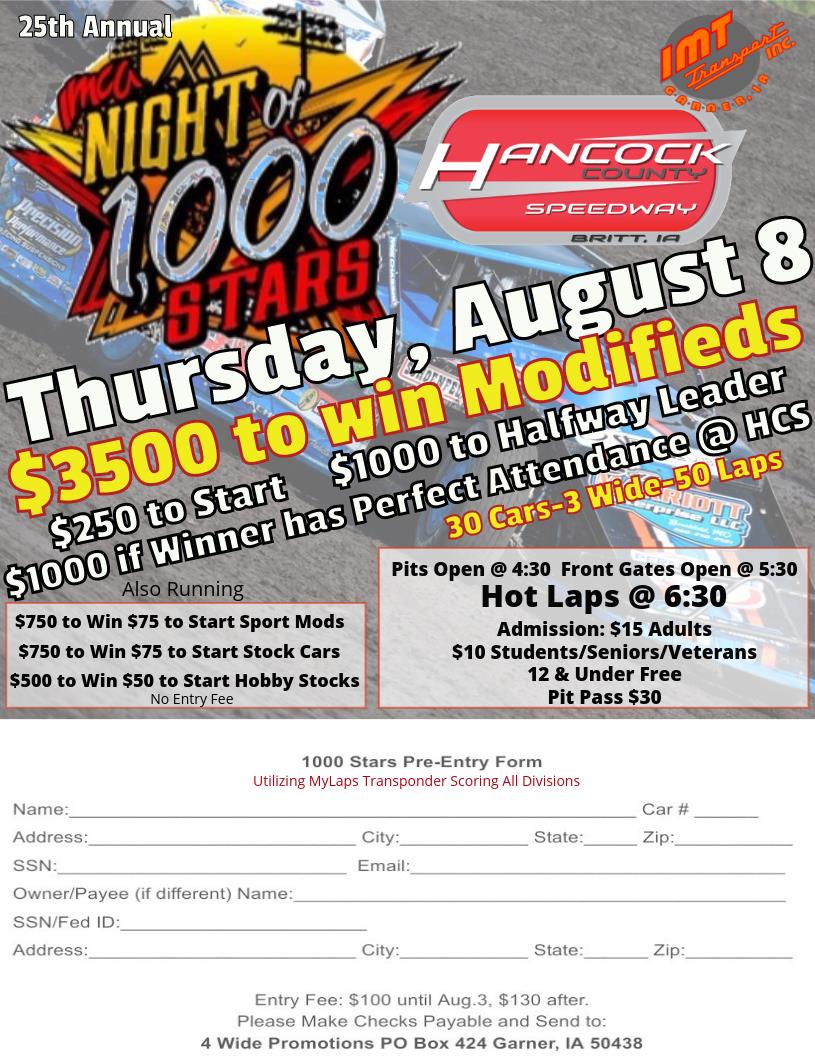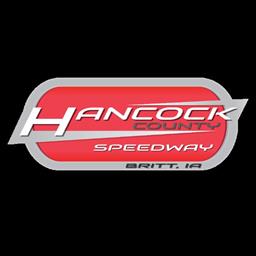 8/9/2019
Hancock County Speedway
---
Thornton Pockets $4,500 at Night of 1,000 Stars in Britt
Thursday Night at the Hancock County Speedway was the 25th Annual Night of 1,000 Stars sponsored by IMT Transport. Night of 1,000 Stars was created in 1995 and originally scheduled to run at the Boone Speedway before mother nature forced it to be moved to Britt. After moved to Britt, the USMTS was scheduled to have a race down at the Hamilton County Speedway on the same nights but fell victim so drivers made the trip to Home of the Hobo Convention and the Hancock County Speedway was on the Map.
The track became an idea in 1994 when the Wright County Speedway just south of Belmond was forced to close and held its first race on June 30th, 1995. This season marked the 25th Anniversary season and 3rd season under the helm of 4 Wide Promotions.
One Hundred Thirty One Cars signed in for Night one of Stars Weekend at the Hancock County Speedway including 56 IMCA Modifieds, 28 IMCA Sport Mods, 29 IMCA Stock Cars and 16 IMCA Hobby Stocks. Ricky Thornton Jr, Brayton Carter, Derek Green and Cody Nielsen among winners.
First feature of the night was the House Motorsports IMCA Sport Mods 15 lap feature event. Colby Fett jumped out to the early race lead but he knew that Brayton Carter was going to make his way up to battle for the race lead. Fett held on to a comfortable lead until a caution came out on lap 10 for Autum Anderson sitting in turn four. On the restart, Fett had to contend with Jared Boumeester, Kansas Hot Shoe Dakota Sproul, Sport Mod Nationals Champion Johnathon Logue and Brayton Carter. Fett held off all initial challenges until Carter made the move and took the top spot away on lap 13. Carter out dueled Fett for the second time this week to take the win. Fett finished second, Boumeester was third, Sproul was fourth and Jake McBirnie took fifth away from Logue.
Matt Speckman led the first fourteen laps of the Quick Performance IMCA Stock Car 20 lap feeature event before Derek Green was able to wrestle the lead away. Green and the field saw the caution come out on lap 18 for Kyle Rose in turn two. Green was determined to not be denied as he held on the final two laps to take the win. Speckman, Kelly Shryock, Chad Palmer and Justin Temeyer rounded out the top five.
In the MPM Marketing IMCA Hobby Stocks 15 lap feature, James Burns led the opening lap before Cody Nielsen took the top spot away. Nielsen saw a pair of cautions on lap three, first for Ben Peterson in turn four and then on the restart for Connor Smith in turn two. Nielsen held on to take the win over his Brother Brandon Nielsen. Drew Barglof finished third, Burns was fourth and Zac Smith was fifth.
Final feature of the night was the 50 lap IMT Transport Night of 1,000 Stars IMCA Modifieds feature event. Six heats, Three B-Features and Provisionals determined the 30 car 3 wide starting lineup. There would be a 10 minute pit stop on lap 25. Benji LaCrosse from Green Bay, Wisconisn grabbed the early lead but just after one lap was scored the caution came out for Kollin Hibdon in turn four. LaCrosse held off Ethan Dotson and Ricky Thronton Jr on the restart but they again saw the yellow come out on lap four for David Brown in turn one. LaCrosse was looking good but Thornton did not go away as he was able to take the top spot away on lap 20. Two laps later on lap 22, the caution came out when Richie Gustin came to a stop in turn four. Thornton led the final three laps before the pit stop to pick up the $1,000 Halfway Leader Bonus. Thornton, LaCrosse, Dotson, Jake O'Neil and Tom Berry Jr was first through fifth at Halfway. Cayden Carter, Cody Laney, Kyle Brown, Jeff Larson and Tim Ward rounded out the top ten.
Thornton wondered at halfway if fuel issues were going to resurface but the answer was no as he led the entire second half of the race, that went caution free. This was Thornton's second win during the Nights of Stars Weekend at the Hancock County Speedway as he won last years Night of 10,000 Stars. Tom Berry Jr came across the line in second for the third night in a row. LaCrosse finished third, Dotson was fourth and O'Neil was fifth. Carter, Kyle Brown, Laney, Nick Meyer and Mike Mullen rounded out the top ten.
Nights of Stars was set to continue on Friday Night with the Night 10,000 Stars sponsored by Corteva Agriscence, Asmus Farm Supply and Pioneer Seeds. Then on Saturday Night with Bob Shryock Memorial Night of All-Stars sponsored by Lake Mills Motorsports and Bayer Crop Science.
Hancock County Speedway
25th Annual IMT Transport
Night of 1,000 Stars
Thursday August 8th, 2019
IMCA Modifieds
A Feature (50 Laps): 1. 20RT Ricky Thornton Jr (Adel); 2. 11X Tom Berry Jr (Newburg, ND); 3. 54 Benji LaCrosse (Green Bay, WI); 4. 175 Ethan Dotson (Bakersfield, CA); 5. 0 Jake O'Neil (Tucson, AZ); 6. 10C Cayden Carter (Oskaloosa); 7. 21K Kyle Brown (Madrid); 8. 5L Cody Laney (Torrance, CA); 9. 2 Nick Meyer (Whittemore); 10. 99 Mike Mullen (Seymour, WI); 11. 555 Ryan Ruter (Kanawha); 12. 4TW Tim Ward (Harcourt); 13. 3 Kelly Shryock (Fertile); 14. B1 Jeff Larson (Freeport, IL); 15. 05M Mike Mashl (DePere, WI); 16. 10 Jeremy Mills (Garner); 17. 02 Kody Scholpp (Estevan, Sask.); 18. 74 Mark Noble (Blooming Prairie, MN); 19. 24 Aaron Benson (Clear Lake); 20. 73 Troy Swearingen (Thompson); 21. 48K Kollin Hibdon (Pahrump, NV); 22. 68W JJ Wise (Garner); 23. 75 Clint Wendel (Mason City); 24. 72 Brian Mullen (Seymour, WI); 25. 21D David Brown (Kellogg); 26. 49K Kody Knecht (Whittemore); 27. 9 Ben Kraus (Britt); 28. 19G Richie Gustin (Gilman); 29. 72W Austin Wolf (Algona); 30. 777 Al Hejna (Clear Lake)
B Feature 1 (12 Laps): 1. Scholpp; 2. Larson; 3. Brian Mullen; 4. Wendel; 5. 25 Ricky Stephan (South Sioux City, NE); 6. Knecht; 7. Wise; 8. 8X Scott Olson (Blairsburg); 9. 30 Josh Ruby (Lakota); 10. Kraus; 11. M80 Jim Mathieson (Sioux City); 12. Jeremy Mills; DNS 5B Bradie Becker (Burt); DNS 31 Corey Dripps (Reinbeck); DNS 7S Todd Stinehart (Waseca, MN)
B Feature 2 (12 Laps): 1. O'Neil; 2. Meyer; 3. Benson; 4. Hibdon; 5. 77 Jeff Aikey (Cedar Falls); 6. 16B Randy Brown (Chowchilla, CA); 7. 28 John Burrow (Denver, CO); 8. 02JR Chris Mills (Sioux City); 9. 343 Jeff Feaster (Humboldt); 10. 31A Kory Meyer (Dixon); 11. 21T Troy Gudmonson (Savage, MN); 12. 66 Tyler DeBouche (Green Bay, WI); 13. 96R Steve Reynolds (Springfield, SD); DNS 68 Mark Joski (Denmark, WI); DNS 10E Stacey Mills (Webb)
B Feature 3 (12 Laps): 1. Ward; 2. Ruter; 3. Mashl; 4. Shryock; 5. Gustin; 6. 5 Brandon Beckendorf (Danube, MN); 7. Hejna; 8. 65 Jerad Thelen (Minot, ND); 9. 11 Ethan Braaksma (Newton); 10. 21B Jason Brees (Meriden); 11. 12 Mark Elliott (Webster City); 12. 3W Garett Wilson (Carlisle); 13. 757 Tony Wedelstadt (New London, WI); 14. 21M Tyler Madigan (Dubuque)
Heat 1 (8 Laps): 1. Thornton; 2. Swearingen; 3. Scholpp; 4. Wendel; 5. Stephan; 6. Gustin; 7. Brees; 8. Wedelstadt; 9. Wilson; 10. Madigan
Heat 2 (8 Laps): 1. Noble; 2. Wolf; 3. Benson; 4. Randy Brown; 5. Hibdon; 6. Olson; 7. Stinehart; 8. Dripps; 9. Jeremy Mills; 10. Becker
Heat 3 (8 Laps): 1. Laney; 2. David Brown; 3. Thelen; 4. Elliott; 5. Stacey Mills; 6. Feaster; 7. Reynolds; 8. Aikey; 9. Joski
Heat 4 (8 Laps): 1. Dotson; 2. Berry; 3. Brian Mullen; 4. Knecht; 5. Ward; 6. Hejna; 7. Ruter; 8. Shryock; DQ Braaksma
Heat 5 (8 Laps): 1. Carter; 2. Mike Mullen; 3. O'Neil; 4. Nick Meyer; 5. Wise; 6. Kraus; 7. Ruby; 8. Mathieson; 9. Larson
Heat 6 (8 Laps): 1. LaCrossse; 2. Kyle Brown; 3. Mashl; 4. Beckendorf; 5. Chris Mills; 6. Burrow; 8. Kory Meyer; 9. Gudmonson; 10. DeBouche
House Motorsports IMCA Sport Mods
A Feature (20 Laps): 1. 01 Brayon Carter (Oskaloosa); 2. 00 Colby Fett (Algona); 3. 81 Jared Boumeester (Waseca, MN); 4. 08S Dakota Sproul (Hays, KS); 5. 08 Alec Fett (Thompson); 6. 82 Jake McBirnie (Boone); 7. 69JR Johnathon Logue (Logansport); 8. 24C Jim Chisholm (Osage); 9. 49 Nate Whitehurst (Mason City); 10. 65J Josh Appel (Mason City); 11. 25 Doug Cook (Algona); 12. 0 Jamie Anderson (Mason City); 13. 25S Alex Smith (Algona); 14. 007 Zach Nitsch (Deila, KS); 15. XXX Mathew Hanson (Klemme); 16. 33 Nicholas Carpenter (Leavenworth, KS); 17. 34N Thomas Nelson (Aurora, CO); 18. 5B Tim Bergerson (Eagle Lake, MN); 19. 008 Drew Fett (Thompson); 20. 12 Devin Fish (Corwith); 21. 24 Kent Haugland (Wesley); 22. 28 Autum Anderson (Mason City); 23. 40 George Gilliland (Lehigh); 24. 6 Corey Klouse (Mason City)
B Feature 1 (10 Laps): 1. Smith; 2. Autum Anderson; 3. Appel; 4. Devin Fish; 5. Carpenter; 6. Klouse; 7. Drew Fett; 8. Gilliland; DNS 32X Gerald Curry (Luverne); DNS 21 Richard Fish (Corwith); DNS 90 George Nordman (Mason City); DNS 5J Justin Raymond (Burt)
Heat 1 (8 Laps): 1. Chisholm; 2. McBirnie; 3. Boumeester; 4. Whitehurst; 5. Autum Anderosn; 6. Devin Fish; 7. Raymond
Heat 2 (8 Laps): 1. Alec Fett; 2. Colby Fett; 3. Jamie Anderson; 4. Hanson; 5. Smith; 6. Carpenter; 7. Drew Fett
Heat 3 (8 Laps): 1.Logue; 2. Carter; 3. Nelson; 4. Bergerson; 5. Curry; 6. Nordman; 7. Richard Fish
Heat 4 (8 Laps): 1. Cook; 2. Sproul; 3. Nitsch; 4. Haugland; 5. Appel; 6. Krause; 7. Gilliland
Quick Performance IMCA Stock Cars
A Feature (20 Laps): 1. 32 Derek Green (Granada, MN); 2. 81X Matt Speckman (Sleepy Eye, MN); 3. 3S Kelly Shryock (Fertile); 4. 14 Chad Palmer (Renwick); 5. 7SR Justin Temeyer (Independence); 6. 11 Jake Masters (Graettinger); 7. 27 Randy Brands (Boyden); 8. 50 Heath Tulp (Britt); 9. 7 Andrew Lokenvitz (Charles City); 10. V31 Todd Van Eaton (Orient); 11. 21 Andrew Borchardt (Plymouth); 12. 92 Buck Schaforth (Orient); 13. 35 Donavon Smith (Lake City); 14. 05 Craig Berhow (Belmond); 15. 47 Parker Slagle (Eagle Grove); 16. 6 Chanse Hollatz (Clear Lake); 17. 38C Kellie Drury (Eldora); 18. 14Z Ned Kalis (Wells, MN); 19. 02 Jeff Dolphin (Britt); 20. 67II Christopher Toot (Albert Lea, MN); 21. 43 Calvin Lange (Humboldt); 22. 123 Kyle Rose (Dallas Center); 23. 03 Matt Baker (Britt); 24. 2 Wayne Landheer (Thompson)
B Feature 1 (10 Laps): 1. Slagle; 2. Schafroth; 3. Smith; 4. Lange; 5. Rose; 6. Toot; 7. Landheer; 8. Baker; 9. 121 Kenzie Ritter (Keystone); 10. 44K Kevin Opheim (Mason City); 11. TNT2 Devin Tripp (Sioux Rapids); 12. 2Y Scott Yale (Minot, ND); 13. 32JR Laura Curry (Algona)
Heat 1 (8 Laps): 1. Masters; 2. Speckman; 3. Dolphin; 4. Borchardt; 5. Rose; 6. Curry; 7. Tripp; DNS Ritter
Heat 2 (8 Laps): 1. Palmer; 2. Van Eaton; 3. Shryock; 4. Hollatz; 5. Landheer; 6. Slagle; 7. Smith
Heat 3 (8 Laps): 1. Tulp; 2. Green; 3. Berhow; 4. Kalis; 5. Schafroth; 6. Toot; 7. Opheim
Heat 4 (8 Laps): 1. Temeyer; 2. Brands; 3. Lokenvitz; 4. Drury; 5. Lange; 6. Baker; 7. Yale
MPM Marketing IMCA Hobby Stocks
A Feature (15 Laps): 1. 29N Cody Nielsen (Spencer); 2. T8 Brandon Nielsen (Spencer); 3. 45 Drew Barglof (Sioux Rapids); 4. 27X James Burns (Algona); 5. 18Z Zac Smith (Manly); 6. 55B Blaine Hanson (Klemme); 7. 8 Kyle Sidles (Emmetsburg); 8. 81 Zack Smidt (Mason City); 9. 50 Bryce Sommerfeld (Fort Dodge); 10. 96R Stephanie Reynolds (Norfolk, NE); 11. 28 Jay Sidles (Emmetsburg); 12. 76 Ben Peterson (Granada, MN); 13. 81C Charlie Stevens (Algona); 14. 35 Connor Smith (Garner); 15. 3JR Jace Hanson (Klemme); 16. 32 Tony Smidt (Britt)
Heat 1 (8 Laps): 1. Brandon Nielsen; 2. Smith; 3. Barglof; 4. Burns; 5. Blaine Hanson; 6. Reynolds; 7. Jay Sidles; 8. Jace Hanson
Heat 2 (8 Laps): 1.Cody Nielsen; 2. Tony Smidt; 3. Zack Smidt; 4. Sommerfeld; 5. Stevens; 6. Smith; 7. Peterson; 8. Kyle Sidles
---
Back to News