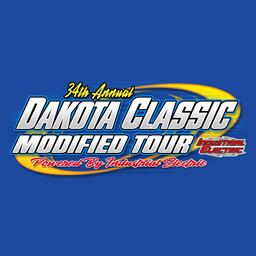 7/10/2019
Dakota Classic Modified Tour
---
Another Dakota Double Down for Thornton in Dickinson
By Jackson Braun
DICKINSON, N.D. (July 10, 2019) – Ricky Thornton Jr. looks absolutely unbeatable right now.
The Iowa racer, transplanted from Arizona, found victory lane at the Southwest Speedway in both the IMCA Modifieds and IMCA Stock Cars for the second race in a row. The last time somebody else found victory lane on tour was all the way back on Sunday when Matt Speckman was able to hold off Thornton in the Stock Car portion of the evening. Thornton has won 6 out of a possible 8 features between the two classes.
Weather wiped out the 4th round of the 30th Annual Kupper Chevrolet Dakota Classic Modified Tour at the Williston Basin Speedway. The tour made it to the scheduled stop at the Southwest Speedway in Dickinson, providing some of the best racing action we have seen all week.
An all-North Dakota front row of Robert Hellebust and Travis Hagen led the 28-car field to the green flag. Hellebust jumped out to the lead early as Thornton loomed behind him from the 4th starting spot. Hellebust was able to make the high line work and get enough momentum to keep his car in the top spot by as little as 0.002 seconds for a few laps in the early running of the feature race.
A restart allowed Thornton to get back positioning on the speedway and strategize for how to get around Hellebust. A few bobbles in the corners by Thornton helped Hellebust to create some space and Jason Wolla to contend for the 2nd position on the track. However, Thornton's car was still too smooth, as he was able to slide around Hellebust to grab the top spot.
As the laps were winding down, Hunter Marriott was hustling his machine around the banks of the speedway and doing his darnedest to catch Thornton and make an attempt at grabbing the victory. Marriott had to start a B Feature and came from the 17th spot all the way to the front of the pack. With a few more laps, Marriott could have made a race-changing move, but Thornton held on to grab the victory. Hellebust was able to secure a 3rd place finish with Wolla behind him while Jason Hughes rounded out the top 5.
The IMCA Stock Cars continued to provide awesome racing action, as the top 6 machines in the Feature event put on a show as they have been all week. Two of those racers, Elijah Zevenbergen and "Smokin'" Joe Flory, brought the field to green. Flory was in contention early on but Thornton eventually found his way to the top spot from his 3rd place starting position.
Joe's son Dalton Flory was Thornton's toughest competitor around the 3/8 mile oval, as Dalton had found some grip in the low-to-middle groove of the racing surface. Thornton ran his machine up around the high line and made a spectacular move splitting two lap cars to maintain his lead over Flory. Dalton was able to maneuver lap traffic just as well as Thornton but did not get a good enough run to defeat Thornton. Austin Daae, Matt Speckman, and Joe Flory completed the top 5.
Going into championship night, Tom Berry holds a 14-point lead in the IMCA Modified divison over Thornton. Marriott sits 3rd, 24 points back, while Lucas Schott holds 4th 26 points behind. Justin O'Brien sits 29 points behind Berry.
Thornton has had a near-perfect tour in the Stock Cars, with 159 points out of a possible 160. Dalton Flory still sits only 7 points behind Thornton, with Speckman 9 behind, Daae 10 behind, and 5-time champion Zevenbergen in danger of having his 4-year streak of being the top dog snapped while he sits in 5th with a 14-point deficit from Thornton.
Results
IMCA Modifieds – 1. Ricky Thornton Jr., Adel, Iowa; 2. Hunter Marriott, Brookfield, Mo.; 3. Robert Hellebust, Minot; 4. Jason Wolla, Ray; 5. Jason Hughes, Watts, Okla.; 6. Jeff Taylor, Cave City, Ark.; 7. Joel Rust, Grundy Center, Iowa; 8. Tom Berry, Newburg; 9. Travis Hagen, McGregor; 10. Tracy Domagala, Bismarck; 11. Mike Hansen, Dickinson; 12. Tanner Black, Otis, Kan.; 13. Justin O'Brien, West Union, Iowa; 14. Shawn Strand, Mandan; 15. Jacob Bleess, Chatfield, Minn.; 16. Alex Stanford, Chowchilla, Calif.; 17. Brad Hartigan, Dickinson; 18. Marcus Tomlinson, Turtle Lake; 19. Lucas Schott, Chatfield, Minn.; 20. Travis Olheiser, Dickinson; 21. Spencer Wilson, Minot; 22. Chris Bragg, Springtown, Tex.; 23. Tyler Hall, Fertile, Minn.; 24. Hank Berry, Sidney, Mont.; 25. Don Gumke, Jamestown; 26. Billy Kendall, Baxter, Minn.; 27. Travis Mosley, Bearden, Ark.; 28. Troy Cordes, Dunkerton.
IMCA Stock Cars – 1. Ricky Thornton Jr., Adel, Iowa; 2. Dalton Flory, Williston; 3. Austin Daae, Estevan, Sask.; 4. Matt Speckman, Sleepy Eye, Minn.; 5. Joe Flory, Williston; 6. Elijah Zevenbergen, Ocheyedan, Iowa; 7. Jace Iverson, Tioga; 8. Michael Swallers, Minot; 9. Aaron Aaseth, Washburn; 10. Keith Mattox, Ray; 11. A.J. Zimmerman, Cleveland, Minn.; 12. Scott Gartner, Jamestown; 13. Justin Bachmeier, Williston; 14. Aden Clark, Surrey; 15. Chase Davidson, Macoun, Sask.; 16. Hunter Fears, Riverdale; 17. Randy Schultz, Swift Current, Sask.; 18. Hunter Preston, Dickinson; 19. Gary Goudy Jr., Stoughton, Sask.; 20. Joe Schrodt, Coleharbor.
---
Article Credit: Jackson Braun
Submitted By: Jackson Braun
Back to News