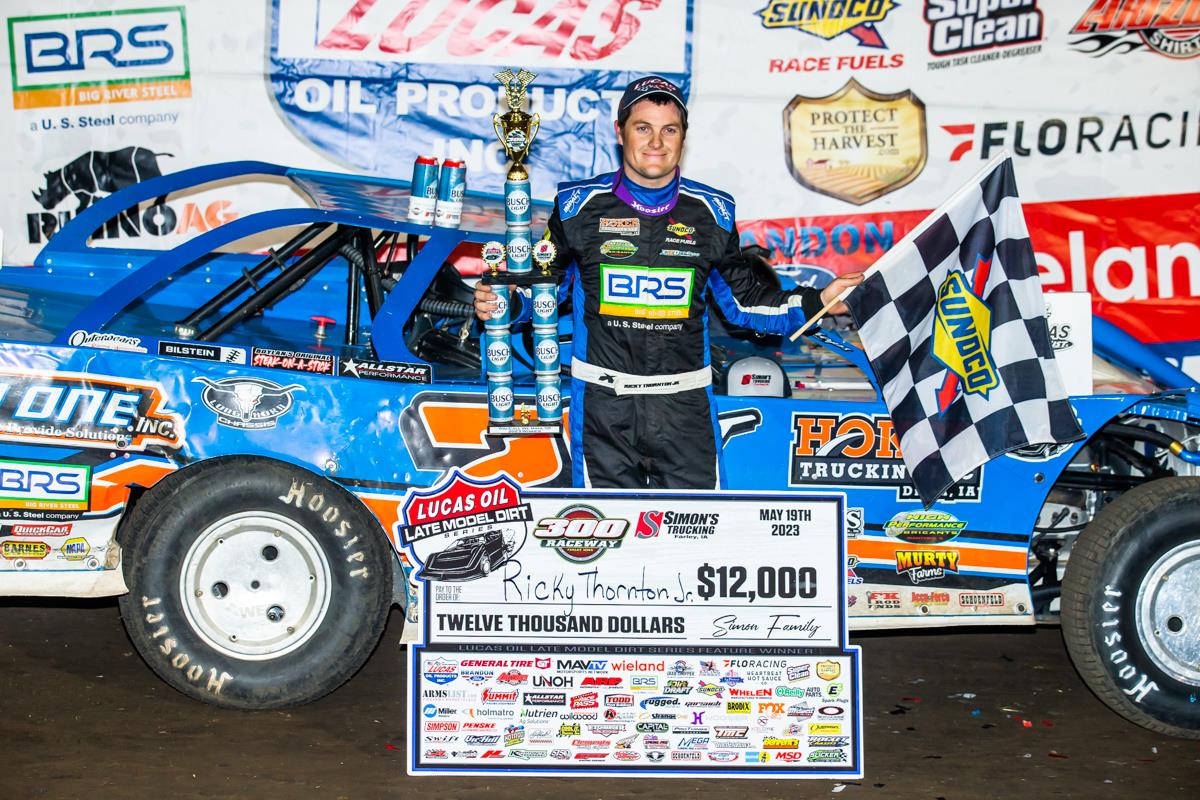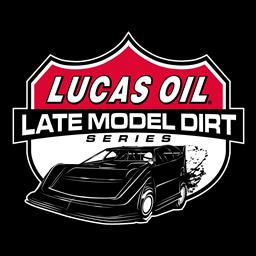 5/19/2023
Lucas Oil Late Model Dirt Series
---
Thornton Rolls Perfect Score at 300 Raceway
FARLEY, Iowa (May 19, 2023) – Ricky Thornton Jr. scored a perfect night at 300 Raceway as he was the overall fast qualifier, won his heat, and led all but the first ten laps of the Simon's Trucking "You Call-We Haul" 50 main event on Friday night. It was Thornton's fourth Lucas Oil Late Model Dirt Series win of the season as he closed to within ten points of series point leader, Hudson O'Neal, who finished third.
Tim McCreadie, the two-time and reigning series champion came home in second just in front of O'Neal at the stripe. Mason Zeigler, who led the first ten circuits of the race was fourth and defending race winner, Tyler Erb was fifth.
Zeigler, the 2018 Lucas Oil Late Model Dirt Series Rookie of the Year, was making his first start with the series since Speedweeks. Zeigler looked stout from the start as he set a rapid pace at the drop of the green. However, lapped traffic allowed Thornton to close the gap in a hurry on Zeigler as Thornton dove down low entering turn two to take the lead on lap 11.
Zeigler then ran second for several circuits until McCreadie, who started third was able to get by the Pennsylvania racer. O'Neal recovered from two restarts and battled with McCreadie near the end as the two were close at the finish line with McCreadie just edging out O'Neal.
Thornton, who started from the pole fell back to second in the early going to Zeigler but bounced back passing Zeigler in traffic to take over a lead he never relinquished. "I just didn't get a good enough start and that allowed Mason to get out in front. I was just kind of dictating off him how fast I needed to go. We got into lapped traffic, and it was kind of hairy there for a while. It worked out for me."
"There for a while I thought I couldn't qualify anymore. It was real good tonight. I didn't hot lap very good, but we qualified really well. It makes your night way easier when you start up front in the heat races and in front of the feature," said the 32-year-old Martinsville, Indiana racer. "It's a lot better than starting 20th and driving my tail off to just to get to fifth or sixth."
McCreadie, who is still looking for his first series win of the season finished 3.5 seconds behind Thornton at the checkers. "It's just nice to put a normal night together where you are not running B-Mains and not changing everything under the car. I saw the rain here last night and I have been here when it's rains it's usually a real tough track, but tonight it was real good and racy. This is one of the few places when you pull a slider at least you clear a guy. It's nice to see these guys race with a little civility out there and not just slide over your nose or do anything like that. We were clearing each other and crossing back over and having a lot of fun out there. It started to latch up a little bit in that last heat and the track crew went to work and it was a good race to be a part of."
O'Neal, who entered the race 50 points ahead of both Thornton and Brandon Overton will carry the Midwest Sheet Metal orange spoiler onto 34 Raceway on Saturday night with a 10-point advantage. "I really didn't do my job. I had a pretty good race car and I just messed up on two restarts right back-to-back and fell all the way back to sixth or seventh or whatever it was. It just set me behind the whole race. I just couldn't quite scratch my way back fast enough to get back to them. McCreadie and I got to battling for second there at the end and that was pretty fun."
The winner's Todd and Vickie Burns-owned, SSI Motorsports, Longhorn Chassis is powered by a Clements Racing Engine and sponsored by Big River Steel, Hoker Trucking, Sub-Surface of Indiana, Dyno One Inc., West Side Tractor Sales, Certified Inspection Service Company, Inc., D&E Outside Services, Midwest Sheet Metal, Sunoco Race Fuels, Bilstein Shocks, and Murty Farms.
Completing the top ten were Devin Moran, Jimmy Owens, Brandon Overton, Chad Simpson, and Daulton Wilson.
Lucas Oil Late Model Dirt Series
Race Summary
Simon's Trucking You Call We Haul 50
Friday, May 19, 2023
300 Raceway – Farley, IA
Allstar Performance Time Trials
Fast Time Group A: Ricky Thornton, Jr. / 14.630 seconds (overall)
Fast Time Group B: Mason Zeigler / 14.656 seconds
Penske Shocks Heat Race #1 Finish (8 Laps, All Transfer): 1. 20RT-Ricky Thornton Jr[1]; 2. 1H-Hudson O'Neal[2]; 3. 1T-Tyler Erb[4]; 4. 18D-Daulton Wilson[3]; 5. 7-Ross Robinson[6]; 6. 58-Garrett Alberson[8]; 7. 4G-Kody Evans[5]; 8. 99B-Boom Briggs[7]; 9. T22-Tegan Evans[9]
Summit Racing Products Heat Race #2 Finish (8 Laps, All Transfer): 1. 25Z-Mason Zeigler[1]; 2. 99-Devin Moran[2]; 3. 11-Spencer Hughes[4]; 4. 20-Jimmy Owens[3]; 5. 49T-Jake Timm[6]; 6. 98-Jason Rauen[8]; 7. 76-Brandon Overton[9]; 8. 22-Daniel Hilsabeck[5]; 9. 29-Spencer Diercks[7]
Simpson Race Products Heat Race #3 (8 Laps, All Transfer): 1. 39-Tim McCreadie[2]; 2. 49-Jonathan Davenport[1]; 3. 46-Earl Pearson Jr[4]; 4. 25C-Chad Simpson[3]; 5. 16-Tyler Bruening[5]; 6. 111B-Max Blair[6]; 7. 40-Joel Callahan[7]; 8. 17-Tim Simpson[8]
Simon's Trucking You Call We Haul 50 Feature Finish (50 Laps):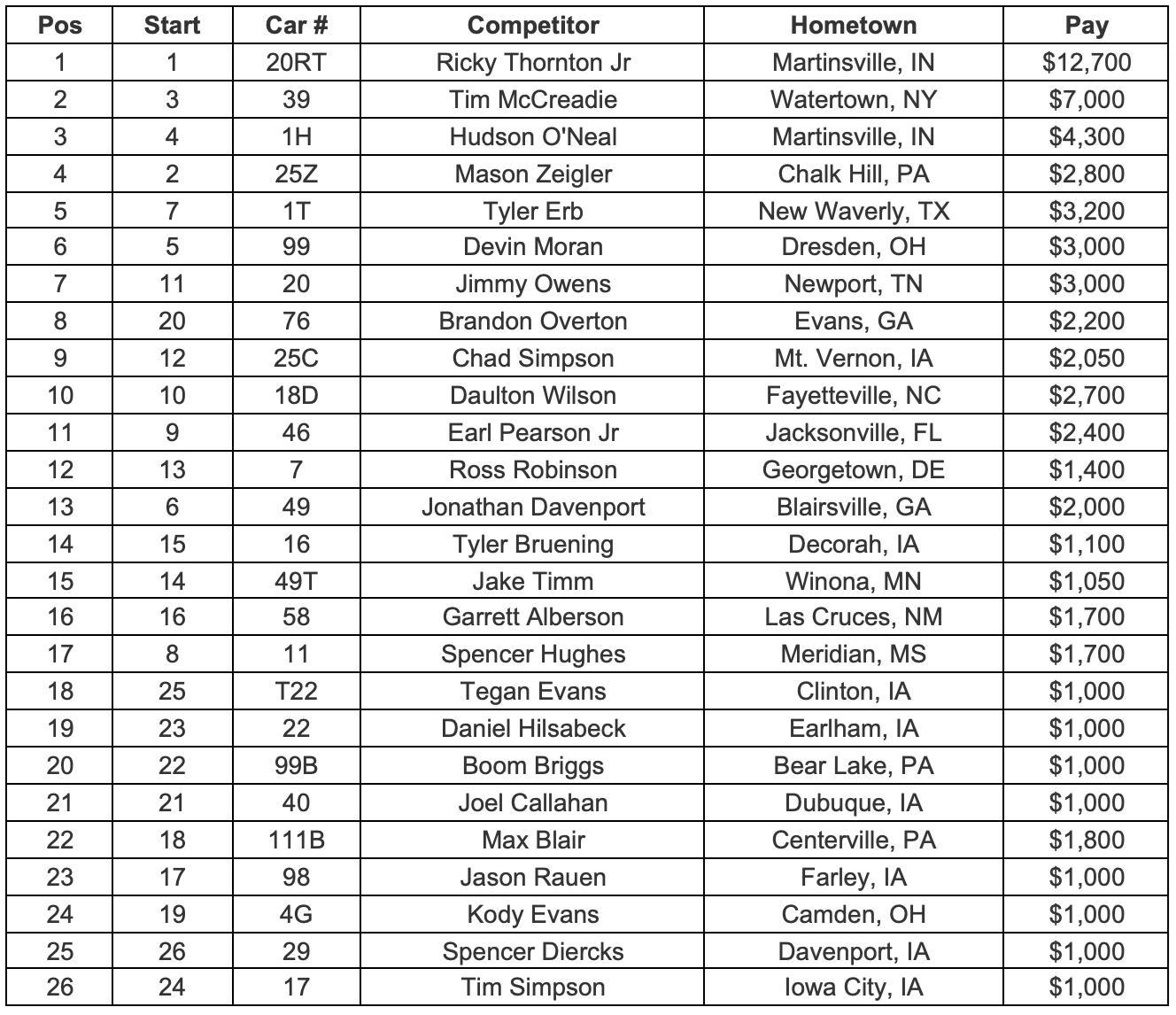 Race Statistics
Entrants: 26
Terminal Maintenance & Construction Pole Sitter: Ricky Thornton, Jr.
Lap Leaders: Mason Zeigler (Laps 1-12); Ricky Thornton, Jr. (Laps 13-50)
Wieland Feature Winner: Ricky Thornton, Jr.
Arizona Sport Shirts Crown Jewel Cup Feature Winner: n/a
Brandon Ford TV Challenge Feature Winner: n/a
Margin of Victory: 3.515 seconds
Gorsuch Performance Solutions Cautions: Kody Evans (Lap 16); Joel Callahan (Lap 17); Spencer Hughes (Lap 18); Max Blair (Lap 31)
Fast Time Provisional: n/a
Series Emergency Provisionals: n/a
Track Provisional: n/a
Big River Steel Podium Top 3: Ricky Thornton, Jr., Tim McCreadie, Hudson O'Neal
Penske Shocks Top 5: Ricky Thornton, Jr., Tim McCreadie, Hudson O'Neal, Mason Zeigler, Tyler Erb
Todd Steel Buildings Hard Charger of the Race: Brandon Overton (Advanced 12 Positions)
Wilwood Brakes Lucky 7th Place Feature: Jimmy Owens
Deatherage Opticians Lucky 13th Place Feature: Jonathan Davenport
Earnhardt Technologies Most Laps Led: Ricky Thornton, Jr. (36 Laps)
Sunoco Race for Gas Highest Finisher: Ricky Thornton, Jr.
Midwest Sheet Metal Spoiler Challenge Point Leader: Hudson O'Neal
O'Reilly Auto Parts Rookie of the Race: Max Blair
Etchberger Trucking Fastest Lap of the Race: Ricky Thornton, Jr. (Lap 14 – 14.808 seconds)
MD3 Tough Break of the Race: Max Blair
Outerwears Crew Chief of the Race: Anthony Burroughs (Ricky Thornton, Jr.)
ARP Engine Builder of the Race: Clements Racing Engines
Miller Welders Chassis Builder of the Race: Longhorn Chassis
Dirt Draft Fastest in Hot Laps: Earl Pearson, Jr. (15.042 seconds)
Time of Race: 28 minutes 20 seconds
The Big River Steel Chase for the Championship Presented by ARP Point Standings: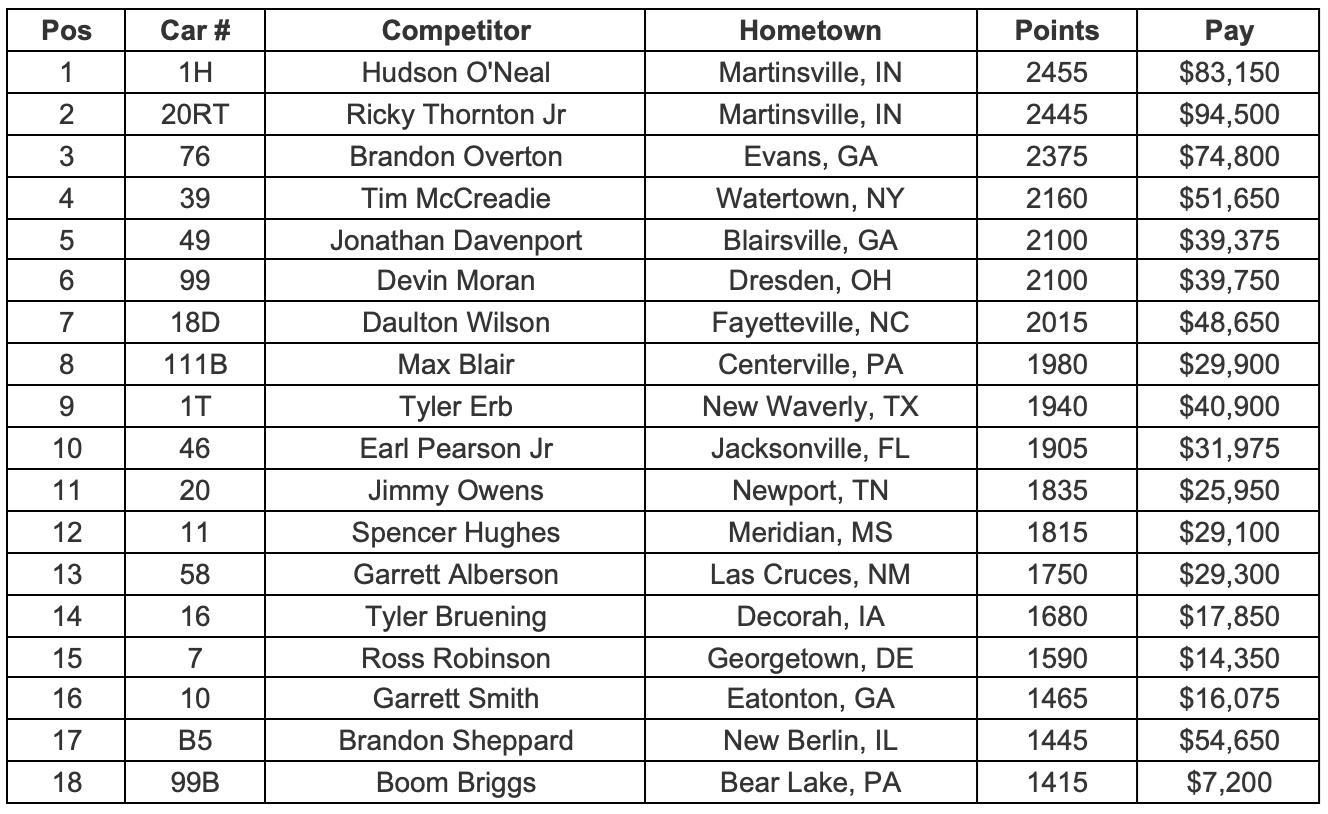 ---
Submitted By: Jeremy Shields
Back to News