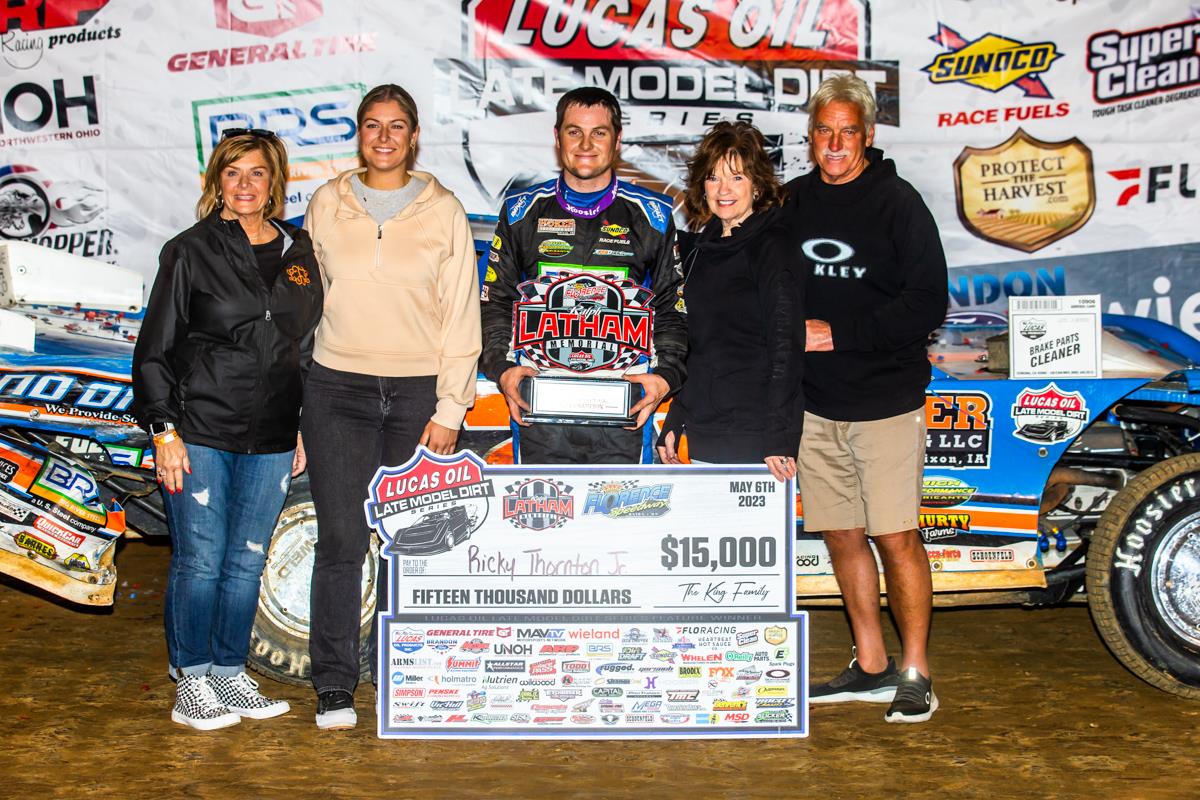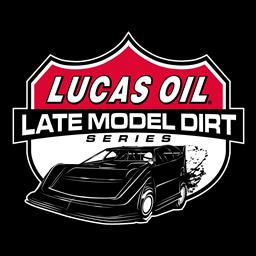 5/6/2023
Lucas Oil Late Model Dirt Series
---
Thornton Earns Career First Ralph Latham Memorial Victory at Florence
UNION, Ky. (May 6, 2023) – Ricky Thornton Jr. regained his early season form in winning Saturday night's 37th Annual Ralph Latham Memorial at the Florence Speedway. In a spectacular race where the top four drivers battled it out for the lead, Thornton pulled away in the last few laps to secure his third Lucas Oil Late Model Dirt Series win of the season.
Thornton was the third different leader of the highly contested race as he came from the seventh starting spot to secure the $15,000 victory. Current Lucas Oil Late Model Dirt Series point leader Hudson O'Neal came home in second with Brandon Overton completing the Big River Steel Podium.
Garrett Alberson was one of the contenders for the win as he charged from his 19th starting spot to earn the Todd Steel Buildings Hard Charger of the Race - finishing fourth. Tim McCreadie, who started 18th rallied for fifth at the end.
Jonathan Davenport, the reigning Sunoco Race Fuels North/South 100 winner started from the pole and bolted to the lead at the start of the race. Davenport pulled away from the field as O'Neal moved past Spencer Hughes for second on the third lap. O'Neal then closed the gap that had developed between himself and Davenport as the two ran two distinctly different lines.
Overton made it a three-way battle for the top spot just as the first caution of the race came out on lap ten. On the restart it took O'Neal just three laps to get by Davenport to become the second different leader of the race. Overton and Thornton both passed Davenport, dropping to fourth in the running order, with 19 laps scored as the caution would come out.
On the restart Thornton had the momentum on the top shelf passing both O'Neal and Overton as he took the lead on lap 23. Bobby Pierce was starting to show his usual Florence Speedway strength against the outside retaining wall as he climbed to third, but just as that happened an issue developed for Pierce forcing him pit side with 24 laps complete.
The heated battle would slow once again with 15 laps remaining. On the restart Thornton surged away to a 2.554 second advantage when the checkers fell. It was Thornton's second career win at Florence after he won the Spring 50 in 2021.
In Lucas Oil Victory Lane for the eighth time in his career, Thornton emerged from the 20RT to the roar of the large crowd. "I told my guys my goal was to come out and win tonight. The car took off after that one restart. I was able to get by Hud [O'Neal] and Brandon [Overton]. I thought it was going to be around the bottom longer than it was. It's easy to knock the right rear off the car here. You can look at my quarter panel and see that. But at the end I just wanted to keep it off the wall and hit my marks because I knew those other guys were not going to give up. Overall, I am excited to get this win."
O'Neal will maintain his championship point lead heading into Farmer City and Fairbury next weekend. "I made just one mistake and that is all it took. I let Ricky [Thornton Jr.] and Brandon [Overton] get by me there after that one caution and then Brandon made a mistake, and I got back by him. We just had to be a little conservative there for a while. I was trying to get to Ricky to see if we could do something with him and I just made a costly mistake there in one and two. We are happy with the weekend we had, a win and two seconds is a good weekend for me. I will take that any day. Ricky made very few mistakes up front and that was the difference."
Overton was the only driver among the top three that did not lead a lap during the race. "We've got an awesome car. I made all my money running through the middle there. It's hard for me to run any kind of different lines around the track. As soon as I got up there to run the top, I got into the wall it knocked my helmet crooked and I thought I need to get back down to the bottom. It was a heck of race. Congrats to Ricky [Thornton Jr.] and Hudson [O'Neal] they did a heck of a job man. I just needed 50 more laps you know. But we had an awesome three days of racing."
The winner's Todd and Vickie Burns-owned, SSI Motorsports Longhorn Chassis is powered by a Clements Racing Engine and sponsored by Big River Steel, Hoker Trucking, Sub-Surface of Indiana, Dyno-One Inc., Wets Side Tractor Sales, D&E Outside Services, Certified Inspection Service Company, Inc., Sunoco Race Fuels, Bilstein Shocks, Midwest Sheet Metal, and Murty Farms.
Completing the top ten were Cory Hedgecock, Jonathan Davenport, Earl Pearson Jr., Devin Moran, and Logan Roberson.
Lucas Oil Late Model Dirt Series
Race Summary
37th Annual Ralph Latham Memorial
Saturday, May 6, 2023
Florence Speedway – Union, KY
Allstar Performance Time Trials
Fast Time Group A: Brandon Overton / 15.398 seconds (overall)
Fast Time Group B: Spencer Hughes / 15.712 seconds
Penske Shocks Heat Race #1 Finish (10 Laps, Top 4 Transfer): 1. 49-Jonathan Davenport[2]; 2. 76-Brandon Overton[1]; 3. 32-Bobby Pierce[3]; 4. 18D-Daulton Wilson[5]; 5. 58-Garrett Alberson[4]; 6. 6JR-Parker Martin[7]; 7. 89-Logan Roberson[9]; 8. 1G-Devin Gilpin[6]; 9. 15-James Rice[8]; 10. 12-Jason Jameson[10]
Summit Racing Products Heat Race #2 Finish (10 Laps, Top 4 Transfer): 1. 11R-Josh Rice[1]; 2. 20RT-Ricky Thornton Jr[2]; 3. 157-Mike Marlar[3]; 4. 1T-Tyler Erb[7]; 5. 23-Cory Hedgecock[5]; 6. 4G-Kody Evans[6]; 7. 5N-Dustin Nobbe[8]; 8. 68-Adam Stricker[4]; 9. 99S-Bill Sheets[9]; 10. 8A-Curt Addison[10]
Simpson Race Products Heat Race #3 (10 Laps, Top 4 Transfer): 1. 11-Spencer Hughes[1]; 2. 1H-Hudson O'Neal[2]; 3. 99-Devin Moran[7]; 4. 46-Earl Pearson Jr[9]; 5. 22-Chris Ferguson[5]; 6. 18-Trevor Landrum[3]; 7. 99B-Boom Briggs[6]; 8. 7-Ross Robinson[8]; 9. 20B-Brad Dyer[10]; 10. 20TC-Tristan Chamberlain[4]
AP1 Insurance Heat Race #4 Finish (10 Laps, Top 4 Transfer): 1. 111B-Max Blair[1]; 2. 10-Garrett Smith[2]; 3. 20-Jimmy Owens[5]; 4. 7R-Kent Robinson[7]; 5. 39-Tim McCreadie[3]; 6. 16-Tyler Bruening[4]; 7. 21H-Robby Hensley[9]; 8. 33-Jesse Lay[8]; 9. 13W-David Webb[6]; 10. 33AJ-Austin Lay[10]
Fast Shafts B-Main Race #1 Finish (12 Laps, Top 3 Transfer): 1. 23-Cory Hedgecock[2]; 2. 58-Garrett Alberson[1]; 3. 68-Adam Stricker[8]; 4. 1G-Devin Gilpin[7]; 5. 4G-Kody Evans[4]; 6. 5N-Dustin Nobbe[6]; 7. 99S-Bill Sheets[10]; 8. 12-Jason Jameson[11]; 9. 8A-Curt Addison[12]; 10. 15-James Rice[9]; 11. 6JR-Parker Martin[3]; 12. (DNS) 89-Logan Roberson
UNOH B-Main Race #2 Finish (12 Laps, Top 3 Transfer): 1. 39-Tim McCreadie[2]; 2. 22-Chris Ferguson[1]; 3. 18-Trevor Landrum[3]; 4. 33-Jesse Lay[8]; 5. 13W-David Webb[10]; 6. 16-Tyler Bruening[4]; 7. 99B-Boom Briggs[5]; 8. 7-Ross Robinson[7]; 9. 21H-Robby Hensley[6]; 10. 20TC-Tristan Chamberlain[11]; 11. 33AJ-Austin Lay[12]; 12. (DNS) 20B-Brad Dyer
37th Annual Ralph Latham Memorial Feature Finish (50 Laps):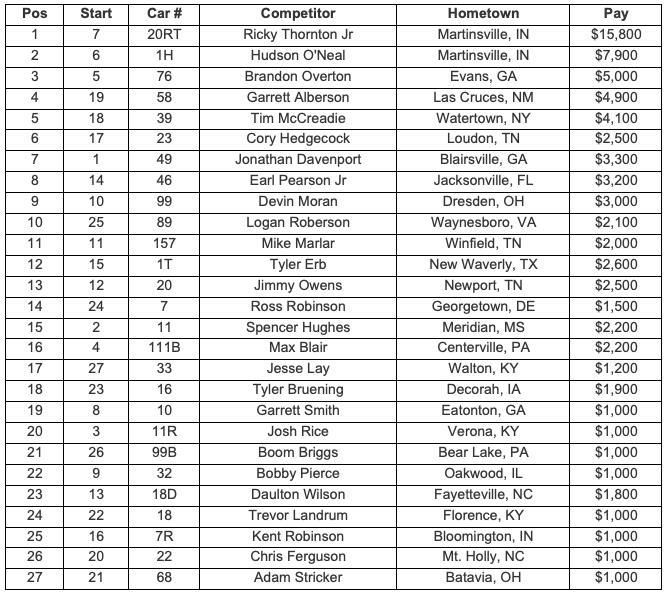 Race Statistics
Entrants: 41
Terminal Maintenance & Construction Pole Sitter: Jonathan Davenport
Lap Leaders: Jonathan Davenport (Laps 1-12); Hudson O'Neal (Laps 13-22); Ricky Thornton, Jr. (Laps 23-50)
Wieland Feature Winner: Ricky Thornton, Jr.
Arizona Sport Shirts Crown Jewel Cup Feature Winner: n/a
Brandon Ford TV Challenge Feature Winner: n/a
Margin of Victory: 2.553 seconds
Gorsuch Performance Solutions Cautions: Max Blair (Lap 10); Josh Rice (Lap 19); Daulton Wilson, Tyler Erb (Lap 24); Tyler Erb, Ross Robinson (Lap 35)
Series Provisionals: Tyler Bruening; Ross Robinson
Fast Time Provisional: n/a
Series Emergency Provisionals: Logan Roberson; Boom Briggs
Track Provisional: Jesse Lay
Big River Steel Podium Top 3: Ricky Thornton, Jr., Hudson O'Neal, Brandon Overton
Penske Shocks Top 5: Ricky Thornton, Jr., Hudson O'Neal, Brandon Overton, Garrett Alberson, Tim McCreadie
Todd Steel Buildings Hard Charger of the Race: Garrett Alberson (Advanced 15 Positions)
Wilwood Brakes Lucky 7th Place Feature: Jonathan Davenport
Deatherage Opticians Lucky 13th Place Feature: Jimmy Owens
Earnhardt Technologies Most Laps Led: Ricky Thornton, Jr. (28 Laps)
Sunoco Race for Gas Highest Finisher: Ricky Thornton, Jr.
Midwest Sheet Metal Spoiler Challenge Point Leader: Hudson O'Neal
O'Reilly Auto Parts Rookie of the Race: Max Blair
Etchberger Trucking Fastest Lap of the Race: Hudson O'Neal (Lap 13 – 16.645 seconds)
MD3 Tough Break of the Race: Bobby Pierce
Outerwears Crew Chief of the Race: Anthony Burroughs (Ricky Thornton, Jr.)
ARP Engine Builder of the Race: Clements Race Engines
Miller Welders Chassis Builder of the Race: Longhorn Chassis
Dirt Draft Fastest in Hot Laps: Hudson O'Neal (15.5827seconds)
Time of Race: 26 minutes 24 seconds
The Big River Steel Chase for the Championship Presented by ARP Point Standings: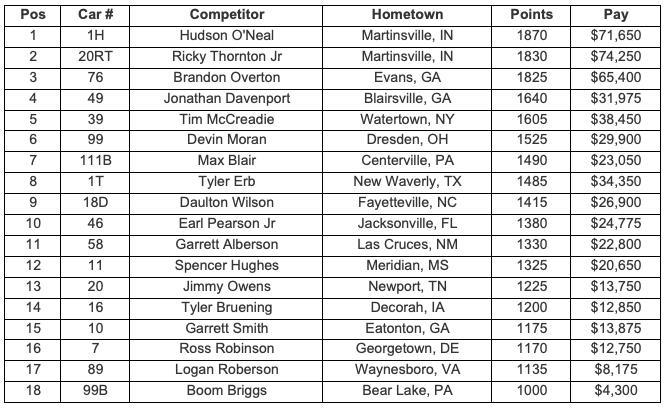 ---
Submitted By: Jeremy Shields
Back to News