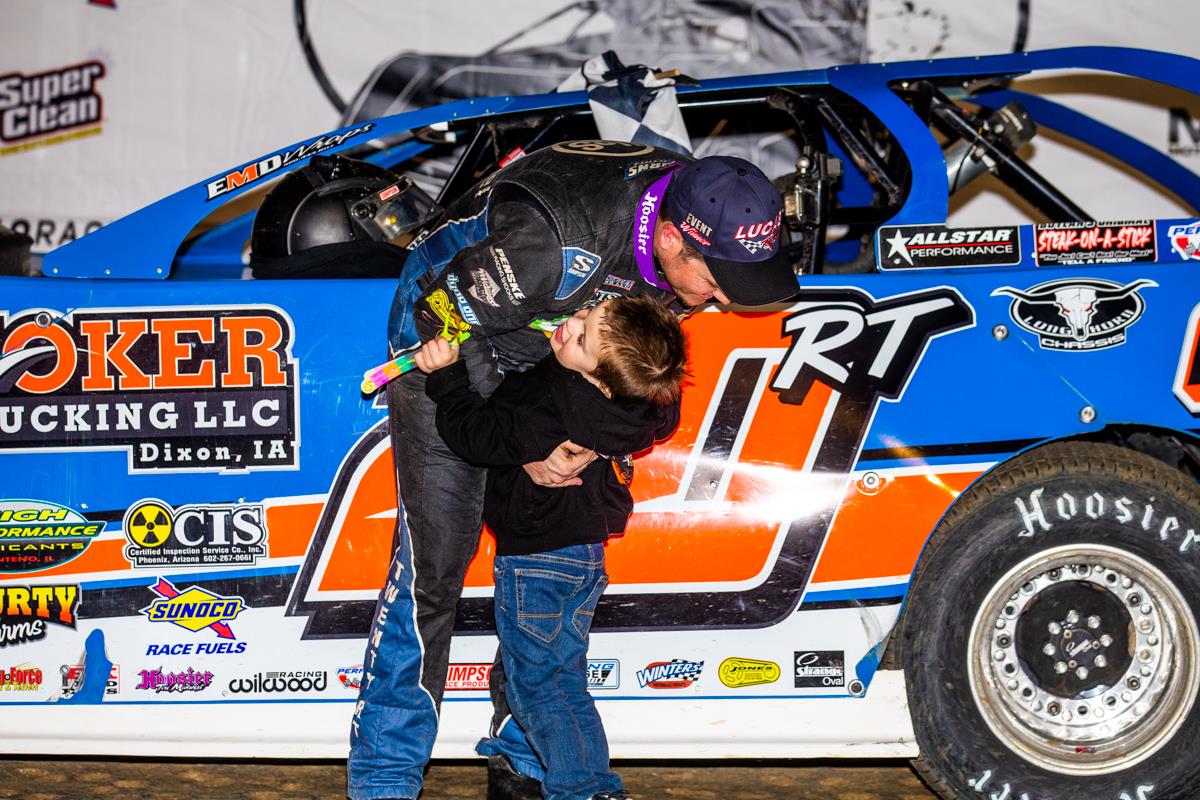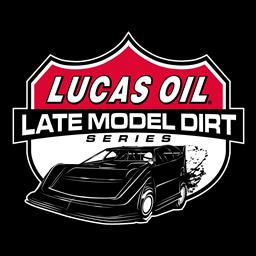 2/4/2023
Lucas Oil Late Model Dirt Series
---
Thornton Claims Point Lead with All-Tech Victory
ELLISVILLE, Fla. (February 4, 2023) – In a race that saw five lead changes among three drivers, Ricky Thornton Jr. emerged victorious on Saturday night at All-Tech Raceway.
Thornton passed race leader Max Blair after a lap 29 restart and went on to win his second Lucas Oil Late Model Dirt Series race of the season. For the first time in his career, Thornton has taken over the top spot in the championship point standings after his seventh career series win.
Tim McCreadie, the two-time and defending series champion, came from the 12th starting spot to finish in second. Brandon Sheppard, who started eighth came him in third, followed by 14th starting Devin Moran. Tyler Erb completed the top five to earn the Todd Steel Buildings Hard Charger of the Race after he started 21st on the grid.
Thornton started on the outside of the front row and grabbed the lead at the start of the 50-lap main event. He quickly built a sizable lead in the opening laps of the race until Shane Clanton, who started alongside Thornton on the front row was able to close the gap and take over the point with eight laps scored.
Clanton would hold the lead until lap 17 when Thornton regained the top spot. At the halfway mark it was Thornton still in front followed by Clanton and Max Blair, who was now up to third. Blair then went to second on lap 27 and two laps later took the lead away from Thornton to become the third different leader of the race.
A caution came out with 29 laps complete with Blair out in front. On the restart Thornton swung to the outside as he pressured Blair and completed the pass heading down the backstretch. Thornton then had to withstand two cautions in the waning laps, one with nine laps to go and one with just two circuits remaining, holding off McCreadie both times.
In Lucas Oil Victory Lane, the 32-year driver who continues to be the most consistent driver to start the 2023 season said: "I really didn't know what to do tire wise. I knew Max [Blair] and Kyle [Strickler] were on softer tires. I told Max to go soft and it lasted a while for him. I didn't know if there was really a line there in one and two. It was kind of a do or die. I was like I really want to win this pretty bad, so I was trying really hard on that restart, and it worked. I kept missing the bottom there in three. It was getting tight. Luckily, we held them off."
McCreadie moved into third in the championship chase with his runner-up finish. "This Paylor Motorsports team just keeps battling. One of these days we'll be able to start near the front maybe and put some pressure on them early so they have to work a little harder than they are working. That's the way it goes. We keep passing as many cars as we can. They are not going to slow this team down."
Sheppard, who finished second in last year's championship standings continues to make strides with his new team. "That was typical All-Tech right there. That was a lot of fun. It was tricky and slippery all over the place. You could chase the brown a little bit. It was a good night. We've been needing this for sure. That practice night this week helped us a lot. I learned a lot of stuff on the car."
The winner's Todd and Vickie Burns, SSI Motorsports-owned, Longhorn Chassis is powered by a Clements Racing Engine and sponsored Big River Steel, Hoker Trucking, Sub-Surface of Indiana, Dyno One Inc., West Side Tractor Sales, D&E Outside Services, Certified Inspection Service Co. Inc., Murty Farms, Sunoco Race Fuels, and Bilstein Shocks.
Completing the top ten were Hudson O'Neal, Max Blair, Shane Clanton, Kyle Bronson, and Spencer Hughes.
Lucas Oil Late Model Dirt Series
Race Summary
Winter Nationals
Saturday, February 4, 2023
All-Tech Raceway – Lake City, FL
Allstar Performance Time Trials
Fast Time Group A: Spencer Hughes / 18.170 seconds
Fast Time Group B: Ricky Thornton, Jr. / 17.691 seconds (overall)
Penske Shocks Heat Race #1 Finish (8 Laps, Top 4 Transfer): 1. 25C-Shane Clanton[4]; 2. 11-Spencer Hughes[1]; 3. 20-Jimmy Owens[6]; 4. 46-Earl Pearson Jr[7]; 5. 16-Tyler Bruening[5]; 6. 10-Garrett Smith[3]; 7. 31-Tyler Millwood[8]; 8. 66JR-Eddie Carrier Jr[2]; 9. 44D-Dalton Cook[9]; 10. 86-Kyle Beard[10]; 11. 01-Jason Garver[11]; 12. 23-Chad Walter[12]
Summit Racing Products Heat Race #2 Finish (8 Laps, Top 4 Transfer): 1. 8K-Kyle Strickler[2]; 2. 28-Dennis Erb Jr[1]; 3. 96V-Tanner English[4]; 4. 19M-Wil Herrington[7]; 5. 89J-Jeff Choquette[6]; 6. 19R-Ryan Gustin[3]; 7. 1T-Tyler Erb[9]; 8. 76B-Blair Nothdurft[8]; 9. 5-Mark Whitener[5]; 10. 99B-Boom Briggs[10]; 11. 14W-Dustin Walker[11]
Simpson Race Products Heat Race #3 (8 Laps, Top 4 Transfer): 1. 20RT-Ricky Thornton Jr[1]; 2. 111B-Max Blair[4]; 3. 1H-Hudson O'Neal[3]; 4. 99-Devin Moran[8]; 5. 40B-Kyle Bronson[5]; 6. 17SS-Brenden Smith[7]; 7. 58-Garrett Alberson[6]; 8. C4-Freddie Carpenter[10]; 9. 21-Billy Moyer Jr[9]; 10. 76-Brandon Overton[2]; 11. 4S-Danny Snyder[11]
AP1 Insurance Heat Race #4 Finish (8 Laps, Top 4 Transfer): 1. 18D-Daulton Wilson[4]; 2. B5-Brandon Sheppard[1]; 3. 39-Tim McCreadie[5]; 4. 22*-Payton Freeman[8]; 5. 12-Ashton Winger[7]; 6. 49-Jonathan Davenport[11]; 7. 3S-Brian Shirley[10]; 8. 1Z-Logan Zarin[9]; 9. 7-Ross Robinson[6]; 10. 25Z-Mason Zeigler[2]; 11. 89-Logan Roberson[3]
Fast Shafts B-Main Race #1 Finish (10 Laps, Top 3 Transfer): 1. 16-Tyler Bruening[1]; 2. 19R-Ryan Gustin[4]; 3. 1T-Tyler Erb[6]; 4. 5-Mark Whitener[10]; 5. 10-Garrett Smith[3]; 6. 76B-Blair Nothdurft[8]; 7. 89J-Jeff Choquette[2]; 8. 31-Tyler Millwood[5]; 9. 66JR-Eddie Carrier Jr[7]; 10. 86-Kyle Beard[11]; 11. 44D-Dalton Cook[9]; 12. 99B-Boom Briggs[12]; 13. 01-Jason Garver[13]; 14. 23-Chad Walter[15]; 15. 14W-Dustin Walker[14]
UNOH B-Main Race #2 Finish (10 Laps, Top 3 Transfer): 1. 17SS-Brenden Smith[3]; 2. 40B-Kyle Bronson[1]; 3. 3S-Brian Shirley[6]; 4. 76-Brandon Overton[11]; 5. 89-Logan Roberson[14]; 6. 21-Billy Moyer Jr[9]; 7. C4-Freddie Carpenter[7]; 8. 7-Ross Robinson[10]; 9. 58-Garrett Alberson[5]; 10. 49-Jonathan Davenport[4]; 11. 4S-Danny Snyder[13]; 12. 1Z-Logan Zarin[8]; 13. (DNS) 12-Ashton Winger; 14. (DNS) 25Z-Mason Zeigler
Winter Nationals Feature Finish (50 Laps):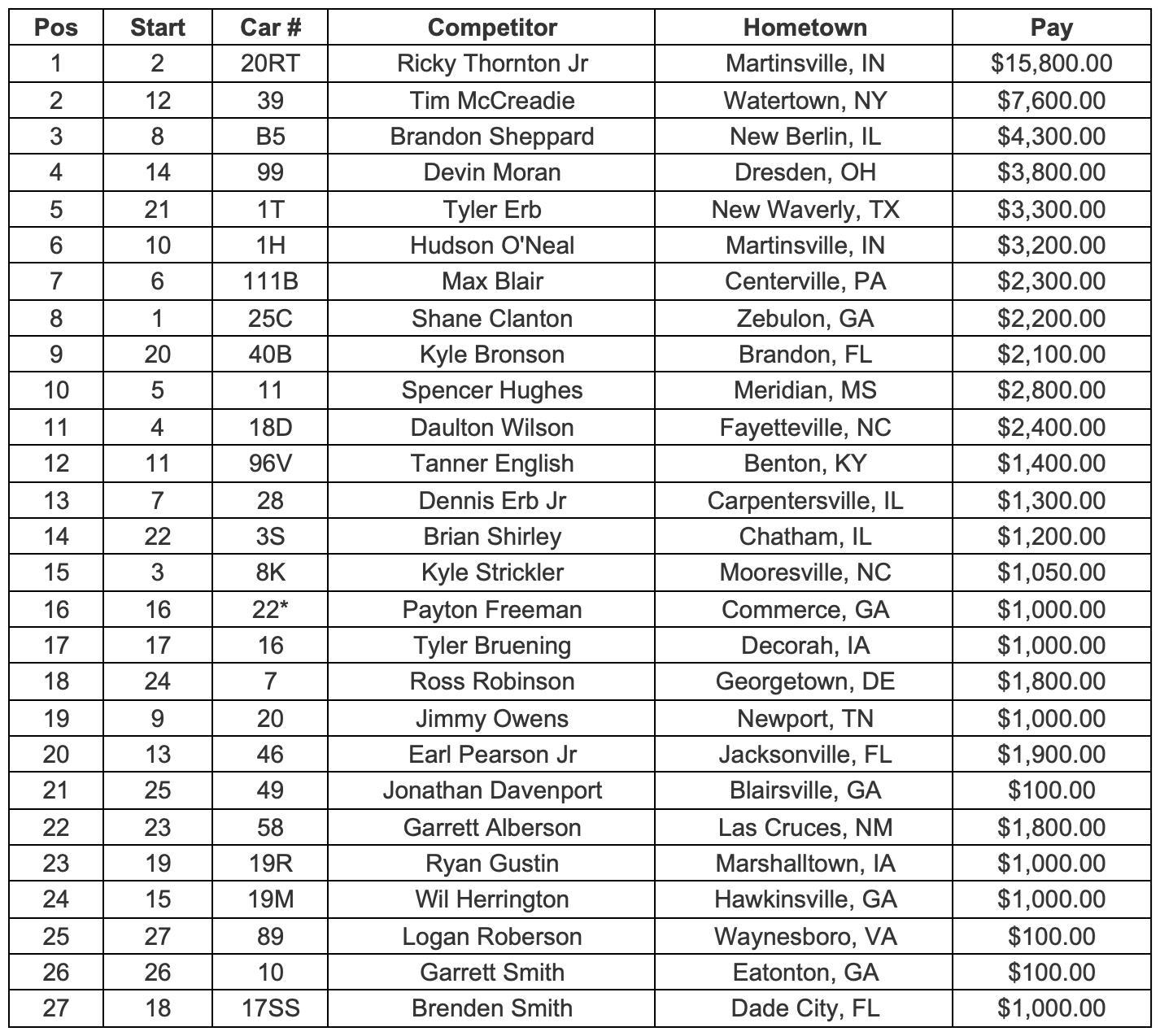 Race Statistics
Entrants: 45
Terminal Maintenance & Construction Pole Sitter: Shane Clanton
Lap Leaders: Ricky Thornton, Jr. (Laps 1-7); Shane Clanton (Laps 8-16); Ricky Thornton, Jr. (Laps 17-28); Max Blair (Lap 29); Ricky Thornton, Jr. (Laps 30-50)
Wieland Feature Winner: Ricky Thornton, Jr.
Arizona Sport Shirts Crown Jewel Cup Feature Winner: n/a
Brandon Ford TV Challenge Feature Winner: n/a
Margin of Victory: 0.428 seconds
Stop-Tech Brakes Cautions: Wil Herrington (Lap 29); Earl Pearson, Jr. (Lap 40); Earl Pearson, Jr. (Lap 48); Jonathan Davenport (Lap 48 Restart)
Series Provisionals: Garrett Alberson; Ross Robinson
Fast Time Provisional: n/a
Series Emergency Provisionals: Jonathan Davenport; Garrett Smith; Logan Roberson
Track Provisional: n/a
Big River Steel Podium Top 3: Ricky Thornton, Jr., Tim McCreadie, Brandon Sheppard
Penske Shocks Top 5: Ricky Thornton, Jr., Tim McCreadie, Brandon Sheppard, Devin Moran, Tyler Erb
Todd Steel Buildings Hard Charger of the Race: Tyler Erb (Advanced 16 Positions)
Wilwood Brakes Lucky 7th Place Finisher: Max Blair
Deatherage Opticians Lucky 13th Place Finisher: Dennis Erb, Jr.
Earnhardt Technologies Most Laps Led: Ricky Thornton, Jr. (40 Laps)
Sunoco Race for Gas Highest Finisher: Ricky Thornton, Jr.
Midwest Sheet Metal Spoiler Challenge Point Leader: Brandon Overton
O'Reilly Auto Parts Rookie of the Race: n/a
Etchberger Trucking Fastest Lap of the Race: Ricky Thornton, Jr. (Lap 1 – 19.614 seconds)
MD3 Tough Break of the Race: Jonathan Davenport
Outerwears Crew Chief of the Race: Anthony Burroughs (Ricky Thornton, Jr.)
ARP Engine Builder of the Race: Clements Racing Engines
Miller Welders Chassis Builder of the Race: Longhorn Chassis
Dirt Draft Fastest in Hot Laps: Hudson O'Neal (18.185 seconds)
Time of Race: 29 minutes 21 seconds
The Big River Steel Chase for the Championship Presented by ARP Point Standings: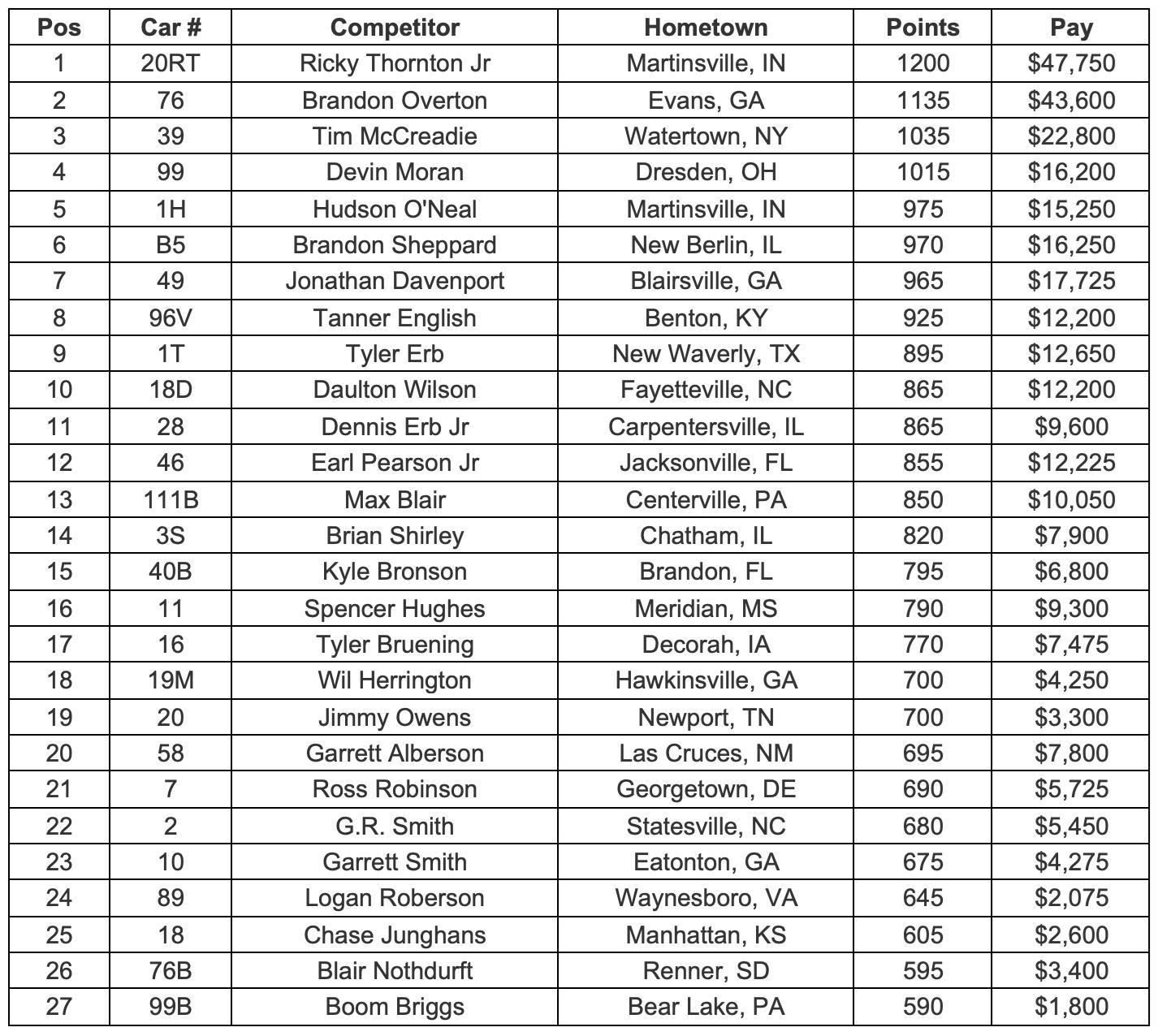 ---
Submitted By: Jeremy Shields
Back to News